This article is more than 1 year old
Google Cloud CEO says Istio will be handed to a foundation. The Reg: But what about..? Google: That will be all.
When? Which foundation? What about Knative?
Analysis Google Cloud CEO Thomas Kurian has stated that Istio, a key component in the Kubernetes platform, will be donated to a foundation, despite previous strong hints that the firm would never do so.
Istio is a service mesh mainly used with Kubernetes, controlling load balancing, access control, metrics, logging, and service to service communication. Another related project is Knative, which builds on Istio to provide eventing and scaling services. Both projects are sponsored by Google, but developed in collaboration with other companies, and are open source.
Kubernetes itself was donated to the Cloud Native Computing Foundation (CNCF) in 2015, and handed over operational control in 2018. It was widely assumed that Istio and Knative would follow in due course, but in October last year the community was dismayed by the announcement from Knative steering committee member Donna Malayeri that "Google leadership has considered this, and has decided not to donate Knative to any foundation for the foreseeable future." There was an assumption that the same applied to Istio though it was not stated so plainly.
In November 2019 we brought up the subject with Jennifer Lin, VP Product Management for Anthos at Google. She suggested the role of CNCF was more about publicising Kubernetes than governance. "CNCF was birthed at a time when people didn't know Kubernetes," she said. "We wanted to build an ecosystem and drive awareness around it. For Istio and Knative; they are already open source. It's not about the foundation, it's about how we engage with the community. We already have a lot of exposure and community engagement."
The wider community was not so happy, especially among companies that have made major contributions to the projects. "Our position on Knative and Istio is … we really would like to see it go under open governance, in the CNCF or some other similar sort of foundation. We think that would be important for its success," IBM's CTO of Open Technology, Chris Ferris told us.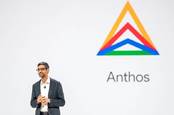 Google's cloud-wrangling Anthos completes bridge to Amazon Web Services, Azure waits in the wings
READ MORE
Now Kurian has said, in an interview with Protocol's Tom Krazit, that Google will, after all, donate Istio to a foundation, though he said that the company is "working through which foundation to grant it to."
What about Knative? The Register asked Google, and the response was that there is "nothing further else to share beyond what's in the Protocol article."
Why the change of heart? Google, we can assume, is weighing up the benefits of owning the projects with the cost of them being perceived as under one company's control. According to Krazit, "Nicholas Chaillan, chief software officer for the US Air Force, told Protocol in January that his organization — a prominent user of both Kubernetes and Istio — would have to drop support for the technology this year if Google didn't donate the project to a foundation."
Google gets commercial benefit from being the inventor of Kubernetes, but holding on too tightly to the technology also brings commercial risks.
Adam Jacob, former Chef CTO, said: "It's the thing I like the least about the current 'cloud native' climate. You're either giving away all your IP to have any hope of adoption by other large players, or routed around like damage."
Kurian's remarks show that the matter remains sensitive. Why would Google be considering foundations other than CNCF, which looks after Kubernetes and related projects like the Tekton build service? Kurian was reported as saying that "some [foundations] have the right governance models, and some of them don't," and while CNCF is not mentioned, it is an odd remark, particularly since Google was a founding member of CNCF.
Some foundations, such as the Microsoft-sponsored .NET Foundation, are strongly associated with one company, though still independent. Might Google have in mind a new foundation tailored to its own requirements?
Nevertheless, the news (or rumour) of Google's change of mind has been well received. Chip Childers, executive director at the Cloud Foundry, said: "This is outstanding news for the Cloud Foundry community, which is increasingly relying on the good work of the Istio project."
The caveat is that while Kurian has expressed an intention, lack of detail about timing and uncertainty over what kind of foundation Google has in mind leaves plenty of scope for doubt. ®