Hands on It must be stressed right off the bat that a "phone" like Planet Computers' Cosmo Communicator is an incredibly niche device.
It's modelled after the old Psion PDAs of yore, and a younger audience, perhaps unfamiliar with tech of the 1990s, might look at it as a weird phone-laptop hybrid that has been shrunk in the washer.
The thing is, both of those things are true: The Cosmo is a nostalgic throwback, but it's also an attempt to reconsider what portable productivity looks like. And the end result is a machine that's both intriguing and polarising, and guaranteed to win fans and detractors in equal measure.
The Cosmo is the latest in a line of Psion Series 5-inspired tools. The first was the Gemini PDA, which I got my mucky paws on last year. Like its predecessor, the Cosmo was first funded via a successful Indiegogo campaign, although now can be found on tech stores like Clove. Early next year, Planet Computers will release the Astro Slide, which packs 5G and a more conventional slider form factor.
Ultimately, there aren't that many surprises with the Cosmo as the diminutive laptop-style device builds on the same strengths of its predecessor. The build quality remains excellent, with a hinge that vigorously snaps into place when the device opens. The keyboard is responsive and consistent, with excellent key travel and a layout that maximises the limited amount of real estate. However, it's nonetheless a bit pokey, and even with repeated use, it's hard to build the muscle memory to permit touch typing.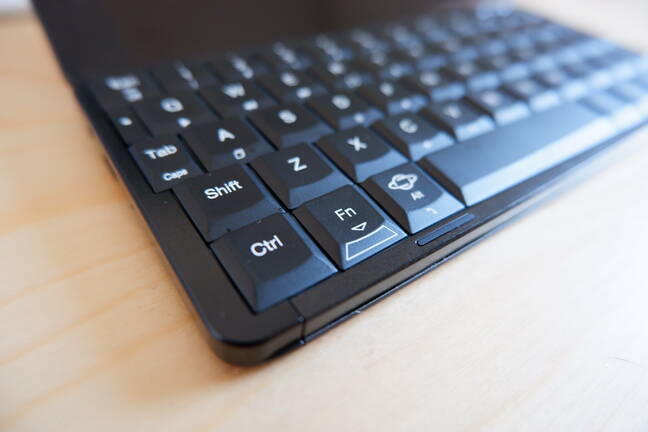 If you're hoping for a machine that will allow you to type like you would on a laptop, this ain't it. However, its form factor arguably lends itself to situations where a traditional laptop isn't well suited, like when plonked in a middle seat on a Ryanair 737 (remember those?). And it is nice to have a machine with a proper keyboard that comfortably fits into the pocket of one's Levi's.
At the top of the device, there's a small OLED display to show notifications, as well as a camera and a fingerprint reader that also doubles as a toggle for the secondary screen.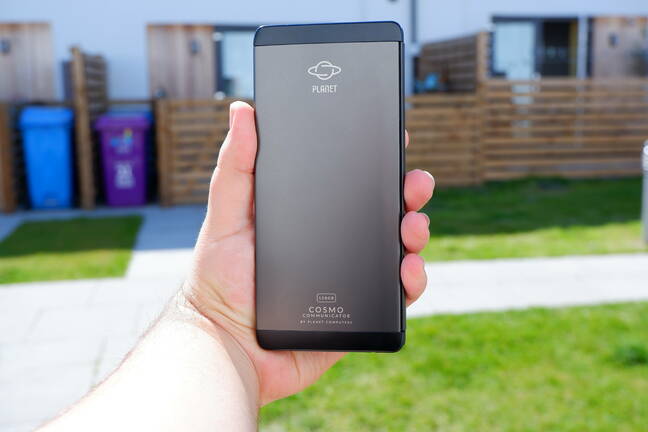 Crack it open, and you're in laptop mode. The display here isn't the brightest or richest we've ever seen, particularly when contrasted against the latest-and-greatest flagships. It struggles in bright, sunny conditions. Indoors, however, it's perfectly fine. And realistically, this is a machine intended for those spurts of productivity that happen when you aren't chained to your desk.
The Cosmo provided to The Register runs Android 9 Pie, and comes with a boatload of apps designed to take advantage of the device's quirky form factor, including an OS X-style app launcher. There are also a few Psion-inspired productivity apps bundled, including a calendar called Agenda. The Cosmo can also run Linux, although we didn't test that.
Under the hood is a Mediatek P70 platform, paired with 6GB of RAM and 128GB of internal storage. Although these are fairly middle-of-the-road specs, I didn't find any reason to grumble, with no perceptible lag when multitasking and performing otherwise computationally taxing tasks.
Battery life, however, is another matter. Despite the unit coming with a whopping 4,200mAh cell, I still found myself running for the wall outlet several times during the same day. And that will obviously dent its appeal to the (now-grounded) road-warrior elite. At least it's replaceable and user-serviceable, which isn't always guaranteed.
Connectivity wise, there's a dual-SIM slot, as well as dual USB-C ports. One is used for charging, while another can connect peripherals, including a secondary monitor. There's also a 3.5mm headphone jack.
The 5MP selfie camera is ideal for video conferencing, although less conducive for Instagram duckface, while the 24MP sensor on the rear didn't rock our socks.
So, here's the interesting thing about the Cosmo: it's not a particularly good smartphone or laptop. But as a third-category device serving as a bridge between the two, it's genuinely compelling and a testament to the viability of Android as a platform for getting stuff done.
There's a huge part of me that hopes Planet Computers takes what it has learned from the Cosmo and turns it to developing a proper 11-inch laptop. The industrial design of the Cosmo is genuinely good, feeling robust in all the right parts. The keyboard is excellent, despite the pokiness. And Planet Computers has managed to make Android work for this unfailingly niche category of product.
This isn't a device I would recommend to everyone. But for those with bulging air-mile balances, it's worthy of consideration. If you're tempted, the Cosmo is available online for £800, which doesn't seem like pocket change to us. ®