Escobar lines up COO... for lawsuit: Controversial bendy phone slinger sues exec over 'missing cash, YouTube hijack'
Dust up after sales money vanishes from bank account, it is claimed
Escobar, the smartphone peddler fronted by the older brother of the late Colombian pharmaceuticals executive Pablo Escobar, is suing its chief operations officer for allegedly embezzling cash and hijacking its YouTube account.
The lawsuit [PDF], filed in the US state of Nevada this month, is the latest controversy surrounding the upstart. Last month, it was revealed the Escobar Fold 2, its latest bendy smartphone, was nothing but a Samsung Galaxy Fold wrapped in gold foil.
Also, Samsung filed a cybersquatting complaint against Escobar, which had bought the domain name ripsamsung.com and pointed it at a webpage to purchase the Fold 2.
Some netizens, meanwhile, have described the Escobar Fold 2 as a "scam," given it costs $400, yet the Samsung Galaxy Fold underneath costs over a grand, and the Escobar Fold 2 has only been seen in the hands of select reviewers and some customers. Many of those who ordered the Escobar Fold 1, launched in December and which appeared to be a rebranded Royole Flexpai, instead received a book and were offered an upgrade to the Fold 2, which hasn't shown up for a lot of folks, judging by online complaints.
Escobar claimed in February it was able to source cheap Galaxy Fold phones in China, hence the low price.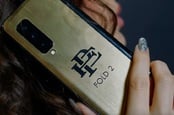 Latest bendy phone effort from coke empire spinoff Escobar Inc is a tinfoil-plated Samsung Galaxy Fold 'scam'
READ MORE
Now, trouble is brewing within Escobar HQ. Daniel Reitberg, its former COO, has abandoned his post and ran off thousands of dollars stored in its private corporate bank accounts, district court filings allege. Chief exec Olof Gustafsson is also upset that Reitberg has apparently changed the password to the company's YouTube account so that it no longer has access to it.
What's more, Reitberg is now holding the YouTube profile hostage and demanding more money in return for control of the account, it is claimed. "He has our Youtube account, this is highly valuable to us – which he knows – otherwise he would not demand a ransom for it," Gustafsson told The Register. Reitberg wants a sum of somewhere in the "six figures," it is alleged. "We will not negotiate with someone that is holding our assets under ransom and extorting us."
According to the court documents, the YouTube channel has generated $1m in sales for the Escobar brand.
Escobar argued its YouTube channel was its primary advertising platform. The biz, indeed, is known for its trademark adverts where it films groups of scantily clad models giggling and swiping on its handsets.
"In the last couple years, [it] has accumulated over 4,500,000 views by customers and potential customers and has thousands of individual subscribers, who through their own accounts, share the YouTube Channel's content with millions of their followers," the lawsuit paperwork stated.
Reitberg was hired as COO in 2014. He was responsible for setting up the company's bank accounts, managing sales, and registering its YouTube account. He was sacked in November 2019, though got his job back in March 2020, it is claimed. But just nine days back at work, Reitberg allegedly "abandoned his post," the filing stated.
Escobar has accused him of closing down its bank accounts and siphoning off its assets as well as "destroying all evidence linking the money in the bank accounts to Escobar purchase orders," which may disrupt order processing.
"We are in the process with our technicians to retrieve and recover as much data as we can," Gustaffson told El Reg.
"We have fulfilled many orders which were placed earlier in the year, and some people's orders have been delayed for the Fold 2 due to COVID-19. So we are hoping to have those resolved as soon as things open back up both in the US and in China."
Escobar wants Reitberg to cough up damages and the keys to its YouTube account, and claimed he has violated America's Defend Trade Secrets Act and the Computer Fraud Abuse Act. ®