This article is more than 1 year old
Latest Apple gadget's production behind schedule, will come out at one month past iPhone 12, reportedly
Wake us up when September ends...
Production of the iPhone 12 is reportedly running behind schedule, as Apple wrestles with supply chain issues caused by the COVID-19 pandemic, as well as a travel ban imposed by the Chinese government.
According to the Wall Street Journal, Apple is around one month behind schedule. This echoes similar reports from Ming-Chi Kuo, who is regarded as one of the most accurate soothsayers of Apple's intentions.
The iPhone 12 series is expected to be radically different from previous models, with a design that apes the current-generation iPad Pro. Apple is expected to return to a flat chassis, which was last seen with the 2016 iPhone SE. Four devices are reportedly planned, each packing a 5G radio, and using Apple's upcoming 5nm-process A14 platform.
This delay will potentially push back the date of the iPhone 12's release. Like clockwork, Apple has traditionally launched its mobile products in September, with the exception of minor devices like the iPhone SE. It is arguably the most reliable event in the consumer tech calendar.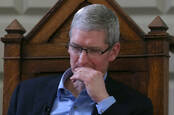 Wall Street analyst worries iPhone is facing '2nd recession' after 2019 annus horribilis
READ MORE
And, unfortunately for Apple, it'll likely have a knock-on effect on the firm's bottom line for its busy Q1 that falls in the Christmas period, with build estimates for its phones cut by as much as 20 per cent. The iPhone represents a significant part of Apple's business, and each year, the latest models represent the lion's share of that figure.
iPhone sales have slumped in recent years, as users hold onto their phones for longer than usual. Last year, Cupertino sold fewer than 200 million units for the first time since 2015. And with consumer spending plummeting in the face of the COVID-19 pandemic, it's feasible the iPhone will continue to shrink this year.
In February, Apple advised investors it would miss previously projected revenue forecasts due to production struggles. These woes have continued beyond the first quarter, particularly due to the inability of Apple engineers to travel to China to assist with prototype assembly. The WSJ claimed Apple staffers have been told to assist their Chinese colleagues via video call, rather than collaborate in person. ®