This article is more than 1 year old
Assange should be furloughed from Belmarsh prison, says human rights org. Here's a thought: He could stay with friends!
Totally reliable and worked really well last time
The son of British fashion designer Vivienne Westwood wants accused US government hacker Julian Assange "furloughed" from Belmarsh prison in southeast London, UK.
The apparently serious suggestion was made by human rights charity Humanade, of which Joseph Corré is a trustee.
Corré, Westwood's son by the late Sex Pistols manager Malcolm McLaren, told the British press that he, along with lawyer Clive Stafford-Smith, is "set to liaise with the UK government to 'furlough Julian Assange' from Belmarsh prison due to the serious threat on his life imposed by COVID-19."
"If Assange contracts COVID-19 and dies, the UK government will be accused of deliberately and methodically killing Julian Assange," Corré added in a canned statement.
A furlough – which can mean a temporary leave of absence or a temporary layoff to cut costs – is not new to the tech world, but many Brits have found themselves quickly swotting up after the UK government used it in the treasury's Coronavirus Job Retention Scheme. In the taxpayer-funded scheme, if staff can't work because of the nationwide coronavirus shutdown, businesses are given the option of sending them home and receiving a grant to cover 80 per cent of their salary up to a £2,500 gross monthly wage.
Furlough is also used to describe a situation where US prisoners are released for compassionate or medical reasons; in the UK eligibility for temporary release schemes are governed by the Ministry of Justice and such inmates who qualify (see guidance here) and do not have a tariff need "ministerial permission".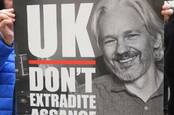 Assange lawyer: Trump offered WikiLeaker a pardon in exchange for denying Russia hacked Democrats' email
READ MORE
Earlier this week, Her Majesty's Prison and Probation Service introduced the End of Custody Temporary Release scheme (ECTR), although that's only for "risk-assessed prisoners, who are within two months of their release date". The MoJ said "pregnant or extremely medically vulnerable" types would be considered for Release on Temporary Licence on a case-by-case basis.
Humanade "believes Assange should be 'furloughed' somewhere outside of London, a hotbed for COVID-19, in one of the safe places that one of Julian's many friends would be happy to accommodate him, well away from London".
Lest anyone needs reminding, the last time old Jules was paroled to a mate's house, he promptly scarpered straight into the Ecuadorian Embassy in the UK capital, where he remained for most of the 2010s. Police, with the consent of the embassy, eventually dragged him out in 2019. He was later sentenced to a year in prison for jumping bail.
Moreover, Assange's previous attempts to get out of jail by using coronavirus as an excuse have already been dismissed by a judge and a legal system alike that are determined to treat the feisty WikiLeaker just like any other accused who's been remanded in custody.
Assange faces charges in the US of conspiracy to commit computer intrusion along with one-time US Army intelligence analyst Chelsea Manning. American authorities are seeking to have the Aussie extradited from London, though the COVID-19 pandemic shutdown has seemingly thrown the planned trial into chaos. ®