US threatens to turf out four Chinese telcos amid concerns over national security... and COVID-19, doctors, schools, jobs, communists, etc
It's pin-everything-on-China season
---
America's communications watchdog will ban four Chinese telcos from operating in the Land of the Free from next month, citing a vague national security threat.
The FCC was reacting to pressure from the White House and Department of Justice, which has embarked on an anti-China campaign that appears to be largely political in nature.
China Telecom Americas, China Unicom Americas, Pacific Networks, and ComNet (a Pacific Network subsidiary) have all received a "show cause" order from the federal regulator asking them to explain why they shouldn't have their authorization to operate telephone networks within the US permanently revoked. The presumption is that they will be.
The companies sell basic telecoms services to American subscribers as well as to foreign customers while they are in the US. They have been authorized to do so for a decade, but following the Trump administration's decision last year to refuse China Mobile its request to operate in the US, the government has extended its clampdown to other Chinese organizations.
The justification for the order is the companies are effectively owned by the Chinese government (they are subsidiaries of state-owned entities) and so represent a national security threat.
FCC boss Ajit Pai said that the orders "reflect our deep concern… about these companies' vulnerability to the exploitation, influence, and control of the Chinese Communist Party... We simply cannot take a risk and hope for the best when it comes to the security of our networks."
Right...
That argument is undercut by the fact that the organizations have been operating stateside for years, and the FCC has presented no evidence of misbehavior during that time. It has instead relied entirely on its China Mobile decision: a decision that one of the FCC's own commissioners slammed as "performative security" even while voting in favor of it.
Back in May 2019, the FCC decided "in the current security environment, there is a significant risk that the Chinese government would use the grant of such authority to China Mobile USA to conduct activities that would seriously jeopardize the national security and law enforcement interests of the United States."
That "security environment" encompasses a range of issues: an ongoing trade war between China and the US; a battle for dominance over next-generation 5G mobile networks; an increase in online hacking efforts by China; and, most recently, an effort to pin blame for the devastating impact of the COVID-19 virus on the Chinese government.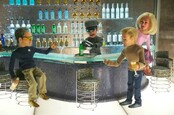 White House creates 'Team Telecom' to probe whether foreign telcos should be allowed near US networks
READ MORE
The FCC's logic is that since China Mobile – the world's largest cellular network operator – was found to be a security risk because it is majority owned by Beijing, then any other telcos majority owned by the Chinese government must ipso facto also be security risks.
If approved to offer an international telecommunications service in the US, a company becomes a "common carrier" under federal law and is able to carry international voice traffic between the United States and foreign countries, as well as interconnect directly and indirectly with other providers' traffic within the US. As such it could be in a position to intercept vast quantities of phone calls and data.
The cell networks have 30 days to respond, and the FCC has asked for an extensive and exhaustive response that provides a full corporate and business breakdown on each company. Given China Mobile's experience, where its appeal was dismissed out of hand despite offering a range of mitigation measures, nobody expects the American watchdog to do anything but revoke authorization.
Hello?
We contacted each company that was sent the FCC order but were unable to reach anyone. Voicemails and emails have so far gone unanswered.
The truth is that the security of telecoms networks has been compromised for decades, in large part because governments didn't undertake serious efforts to bake security in and instead relied on the private sector and competition to take care of the issue.
In her statement [PDF] on the China Mobile decision in 2019, FCC Commissioner Jessica Rosenworcel, who often goes out of her way to explain in clear terms what is going on behind the scenes, called the ban "performative security" and questioned its value.
"This application has been in these halls for more than eight years," she wrote (China Mobile applied back in 2011). "It has been on permanent pause. So while I support this vote, it does nothing to change the status quo. Nor does it address any of the fundamental challenges to the security of digital age communications. To move beyond performative security to real security, this agency needs to change course."
She then suggested a variety of measures that would bring real security improvements to the telecoms networks, none of which appear to have been taken up.
The US government has gone to significant lengths to undercut the reach and influence of Chinese telecoms companies in recent years, most notably an aggressive effort to force other countries in Europe and beyond to ban equipment from Huawei into any of their 5G networks.
The US even threatened to end the sharing of intelligence if countries didn't put a ban in place: a threat that was deemed empty when both Germany and the UK announced they would not ban Huawei but would ensure its equipment was not used in "critical networks" i.e. government channels.
Factors
Officially, the decision on whether to ban a company from the US' networks is based on a number of factors, including "whether the applicant has a past criminal history; whether an applicant's foreign ownership could result in the control of US telecommunication infrastructure"; "whether the applicant will be required to comply with foreign requests e.g., requests for communications intercepts"; and "whether the applicant's planned operations… provide opportunities to... engage in economic espionage."
In an executive branch "recommendation" that outlined concerns and which has seen been published in a heavily redacted form [PDF], the US intelligence services concluded that because there had been a significant increase in "Chinese government involvement in computer intrusions and attacks and economic espionage" and as such China Mobile should not be granted access to the US markets.
Somewhat belying that argument however, one of the FCC's commissioners, Brendan Carr, argued in an official statement that the four Chinese companies that are authorized to operate in the US should have that right revoked because "Americans have learned that they no longer need to page through dusty foreign policy magazines to understand the consequences that flow from communist China's brutal crackdown on freedom and free speech."
He went on: "The communist party's silencing of critics and its disappearance of hero doctors and citizen journalists exacerbated the global spread of COVI-19. Americans are now experiencing the consequences of those oppressive actions in their own lives - whether in the loss of their jobs or their kids not being able to attend school due to COVID-19." ®