Google has released its second-stab at the hearable market — the AirPod-style, earplug-looking Pixel Buds wireless earphones.
Available to order on the Google Store for $179 (roughly £140), the Pixel Buds come with gesture recognition and a "three-point anchor system" designed to keep the pricey kit from falling out on a run.
A voice accelerometer is included, designed to detect when the user is speaking. There's also an infrared proximity sensor, designed to automatically pause and resume audio when the user puts them on or takes them off. In addition, the Pixel Buds pack four beam-forming microphones (two in each bud) to limit background noise.
The Buds are rated IPX4, denoting water and sweat resistance. Charging comes via a USB-C port on the case, which itself holds 24 hours' worth of juice. Ten minutes plugged in gets you about two hours of listen time. There's also wireless charging, if you've got a Qi pad knocking about. Users can expect to get five hours of playtime between charges, or 2.5 hours of talk-time. That's roughly on-par with Apple's AirPods Pro.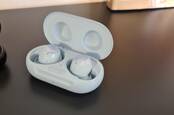 Best buds? Apple must be fuming: Samsung's wireless earphones boast 11 hours of listening on a single charge
READ MORE
The buds are available in four colours, each with a name that could easily have been nabbed from Cadbury's R&D department. There's Oh So Orange, Clearly White, Quite Mint, and Almost Black. While they are primarily geared to Android users, and particularly those with Google's Pixel range of phones, the buds work with iOS and standard computers, albeit with a few features missing.
As is the case with many premium headphones, there's a companion app for the Pixel Buds, which was launched overnight. This element of the product, however, has been less well-received, due to Google shovelling it onto the phones of anyone with a Pixel 2 to Pixel 4. As a result, at the time of publication it was buried under a deluge of one- and two-star reviews from pissed off punters — many of whom object to the unwelcome bloatware. ®