This article is more than 1 year old
Guess which cloud giant Zoom picked to handle millions more video calls? Bzzt, wrong answer: It's Oracle
No wonder Larry Ellison went on YouTube to heap praise on the web-conferencing upstart
A few weeks ago a baseball-capped Larry Ellison stuck a short video on YouTube praising Zoom to the skies, calling it "an essential service." Now we have an idea why.
Big Red today boasted Zoom has inked a deal to use the Oracle Cloud Infrastructure, and we're told the platform is already supporting millions of Zoom video-conference meetings. The upstart, which is experiencing soaring demand for its services amid the coronavirus pandemic, is funneling seven petabytes a day through Oracle's servers, and more is expected, according to Oracle.
Zoom already uses Amazon and Microsoft cloud services, though chose Oracle for its latest expansion, it appears. In other words, Zoom has added Oracle to its platform mix. Amazon Web Services is the global cloud leader followed by Microsoft Azure, then Google, Alibaba, and others tussling for third, fourth, and fifth places.
Clay Magouyrk, executive vice president of engineering for Oracle Cloud Infrastructure, told The Register talks were underway with Zoom long before Oracle co-founder Ellison lauded the app maker on YouTube on April 13 – which you can watch below.
Specifically, Magouyrk said the database giant started working with Zoom on March 16. "A big part of why this is so impressive is because literally before that Zoom was not a customer of Oracle Cloud infrastructure, and within a few days they were actually serving their customers on [our cloud]," he said.
"I've had conversations with Larry about this," Magouyrk continued.
"People should know is that long before Zoom was the Oracle Cloud customer, Oracle was a Zoom customer. Larry has been very impressed with what Zoom has been capable of. It's been very critical infrastructure for our company and for our employees, and you know he wanted to share that with Eric [Yuan, Zoom CEO] and his team."
Magouyrk said he hoped Zoom – which has shored up its security after ballooning to 300 million daily users from just 10 million in December – will use Oracle's cloud for "many years" to come.
Meanwhile, Zoom boss Yuan said in a statement: "We recently experienced the most significant growth our business has ever seen, requiring massive increases in our service capacity.
"We explored multiple platforms, and Oracle Cloud Infrastructure was instrumental in helping us quickly scale our capacity and meet the needs of our new users. We chose Oracle Cloud Infrastructure because of its industry-leading security, outstanding performance, and unmatched level of support."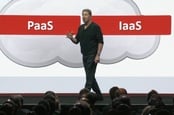 SAP hits back in Oracle cloud spat: I am rubber, you are glue, we have twice as many ERP installations as you
READ MORE
It was an unusual step for Ellison to offer a personal endorsement out of the blue. It was also slightly odd that a multi-billionaire with several palatial homes and his own private Hawaiian island chose to make the recording in what looks and sounds like storage closet.
"Zoom has become an essential service for Oracle, for companies in the US, and around the world," the executive chairman said in his YouTube address. "It has allowed the economy to continue to function even though we're facing a COVID-19 pandemic."
Zoom is popular, no doubt, though to say it is essential is perhaps a bit of a stretch. That would imply there are no alternatives. Yet alternatives – Cisco Webex, Skype for Business, Blue Jean, Microsoft Teams, Google Hangouts, GoToMeeting, ezTalks Meetings, and StarLeaf – demonstrably exist.
The other part of Ellison's statement we could quibble with is that Zoom alone has "allowed the economy to continue to function."
Let us just say that, with news today that President Donald Trump's own economic adviser has warned America's GDP could drop by 30 per cent this quarter due to the pandemic lockdowns and slowdowns, The Register would hate to see what a dysfunctional economy looks like. ®