Arm dumps risk for CISC – Chip Indies Skip Costs: Early-stage startups can pay $0 to access CPU, GPU blueprints
Who said open-source alternatives? Haha, no one here said it, you must have imagined it
Arm hopes to entice early-stage chip-designing startups into licensing its blueprints – by slashing the cost of entry to zero.
If your organization has bagged less than $5m (£4m) in funding, Arm will let you pick CPU and GPU cores, and other technologies, from a selection of its blueprints and drop them into the homegrown chip you're working on without paying any upfront costs – though you will have to pay a license fee once you've decided on the intellectual property you want to use, and then pay a per-chip royalty.
So, say you're working on a system-on-chip for some product, and you're a hard-up upstart with minimal funding. You contact Arm, you get access to the catalog of blueprints for free. You pick a CPU core to run your firmware code, some interconnects to join everything up, and some basic on-die peripherals because you're too lazy or busy to define a UART and SPI in SystemVerilog. You drop the blocks into your system-on-chip around your custom logic and workload acceleration, and verify and prototype it ahead of production. When ready, you license the tech from Arm by getting your checkbook out. You tape out the chip, fabricate, test, and ship it, and pay royalties to Arm.
This program, dubbed Flexible Access for Startups, launched today, and is a follow-up to last year's Flexible Access program.
The two programs are virtually identical. The key difference is Flexible Access for Startups applies to early-stage startups only, and it is free to enter. Flexible Access, aimed at mid-to-late-stage startups and enterprises that want to get into chip design and have the cash to invest in such a project, requires an upfront cost of at least $75,000 a year.
The blueprints available through Flexible Access for Startups can be found here, or below at a glance.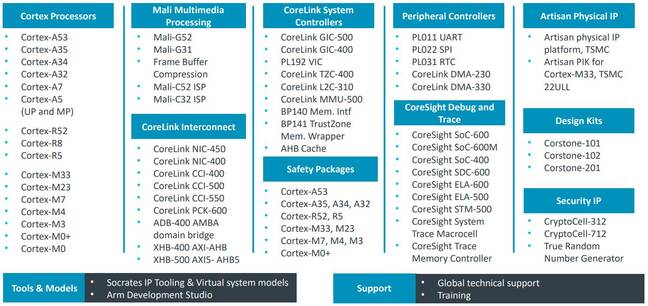 Arm's list of IP and support services available through Flexible Access programs ... Click to enlarge
As you can see, the roster does not include Arm's high-end tech: in terms of compute, it tops out at the Cortex-A53, which was introduced in 2012, and in terms of graphics, the mid-range Mali-G52, which was launched in 2018. So just be aware Arm's not being overly generous here – to get access to higher-end designs, you need to muck in with the big players and cough up a chunk of change upfront.
If you need access to low-to-mid-end and microcontroller-grade chip blocks, though, this is more your jam. And you do get access to Arm's engineering support: its hand-holding of customers through the laborious process of designing, testing, fabricating, and verifying a chip has been a big part of its success.
To put it all into perspective, Nuvia, which is designing Arm-compatible data-center-grade processors, has secured at least $50m in funding, and rival Ampere has bagged at least $40m. It costs a lot of money to spin up a proper chip operation, and so if you're cooking along with less than $5m in investment, Arm's Flexible Access program is perhaps the sort of affordable emporium you ought to be browsing.
We asked Arm to differentiate its Flexible Access program – which has signed up about a customer a week since its launch in mid-2019 – from the new Flexible Access for Startups program. A spokesperson told us:
The original Arm Flexible Access program has an annual access fee which starts at $75k a year. This allows partners to evaluate and fully design their system-on-chip, with one tape-out per year. The new Arm Flexible Access for Startups program provides no cost access to the world's most widely used chip design IP. Early-stage startups with funding up to $5m can now experiment, design, and manufacture prototypes, including access to Arm's global support, without paying any fees.
We also recalled that when Flexible Access was unveiled, it was stressed this program was not a way to license Arm designs on the cheap: you still had to pay all your dues, it's just that licensing payments were deferred until you had settled on the blueprints you wished to use. We asked if this was still the case for the early-stage startup program, and a spokesperson told us, yes, the program is not a cheaper route to licensing. You still have to pay, although early-stage startups avoid the annual $75,000+ entry fee.
Now we could mention alternative open-source architectures, such as RISC-V, OpenRISC, and OpenPower, that have various implementations available, ranging from microcontrollers to mid-range CPU cores to system-on-chips, which startups could drop into their blueprints, and that this competition may be why Arm extended its Flexible Access program, but we won't mention that.
"This is all about adding more choice and flexibility in response to changing industry needs," an Arm spokesperson told us, regarding Flexible Access for Startups. "Partners can select the business model that works best for them."
Indeed they can. Incidentally, Arm's original RISC architecture turned 35 this week, a pioneering 32-bit ancestor to today's designs. ®