In a seemingly abrupt departure, HPE has confirmed Phil Davis, who runs its Hybrid IT division and ultimately the global sales team, is leaving at the end of the week for new pastures Down Under.
HPE told us Davis has accepted a position that will allow him to relocate to Australia, where his family already live. The speed of his exit suggests he is going to a rival, though neither HPE nor Davis confirmed his next employer.
In a statement, the American IT giant said: "He decided the time was right for his family to make this move, and he leaves with our gratitude for all he helped make possible at HPE. Over the last two years, the Hybrid IT businesses have introduced compelling new products, enhanced team member engagement, improved customer satisfaction, and increased profitability."
Not all that glitters is gold: HPE's bottom line was helped by HPE Next, the multi-year programme that includes a worldwide restructure and redundancies, it has belatedly reacted to customers' preference for buying tech as a service, and revenue hasn't grown on a sustained basis for some years.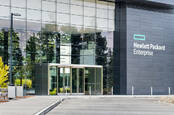 Buy now, pay later: HPE says demand for financing jumps amid pandemic
READ MORE
The company has made some interesting buys in SGI, Cray, cloud minnow Red Pixie and Cloud Technology Partners. It has also bet the farm on Edge Computing, funnelling the majority of R&D spending to the segment. The fruits of those investments have yet to yield a bumper harvest in terms of financials, however.
Davis landed at HPE in September 2014 to run the Asia Pacific Japan unit - previously he was GM of Dell's enterprise solutions division. He was elevated to chief sales officer three years later when, under HPE Next, the regional execs were laid off and all country managers started reporting directly to Davis.
In July 2018, Davis was made permanent president of the Hybrid IT division - which comprises servers, storage, and the PointNext consultancy/ professional services unit. Other divisions at HPE include Intelligent Edge, Financial Services and Corporate Investments.
As of November last year, HPE named Heiko Meyer as chief sales officer, meaning that all country managers reported to him. However, Meyer then himself reported to Davis, who reported to CEO Antonio Neri.
In the interim, Meyer will report to Neri as no one is yet lined up to replace Davis. HPE told us it is "evaluating options for the operating model that will best allow us to prove our customers and partner with unique hybrid technology experiences, delivered as a service."
These are big boots to Phil. That was intentional, and this reporter is forever not sorry for that terrible pun. ®