Memory, all alone doing all right. Samsung dreams of the old days, life was beautiful then. Hopes punters remember happiness is a new telly
Korean giant's Q1 held up, but full 2020 outlook looks like worse than the Cats movie trailer
---
Samsung Electronics has posted Q1 2020 results that tell a viral tale.
The company's memory business did well "thanks to continued investments in 5G infrastructure and increased demand from cloud applications related to remote working and online education." Increased video streaming and e-tail activity gave datacentre DRAM demand a boost while strong PC sales also helped memory to keep moving.
Mobile device sales dipped in the quarter because the world's a bit nervous about discretionary purchases right now. But Samsung thinks it did alright by giving punters something new to buy in the form of an expanded and cheaper 5G range. Launching two premium handsets – the Galaxy S20 and Galaxy Z Flip – helped things along by increasing average selling price.
The mobile device dip flowed on hurt Samsung's display business, with both screens-for-mobes and the rest of the display market quiet.
Samsung rather hoped that Q2 would be better for displays. Now it says "For large displays, earnings are likely to remain weak owing to the market slowdown accelerated by the postponement of mega sporting events such as the Summer Olympic Games. The company will focus on providing value-added products such as panels for ultra-large and 8K TVs as well as curved monitors."
The memory outlook is mixed. On the one hand clouds are expanding and need memory. On the other, the company has predicted a sharp decline in mobile device sales and that won't be good for memory.
In the mobile market, Samsung predicted "market competition is forecast to intensify as manufacturers strive to recover from the weakness in the first half." The Korean giant thinks it has a decent shot at riding it out with planned launches for more folding models and an update to its Galaxy Note product.
The company is still raking it in: revenue for the quarter was 55.33 trillion Korean Won – about $55.bn. Profit was about $5.3bn. The company's display business made a small loss.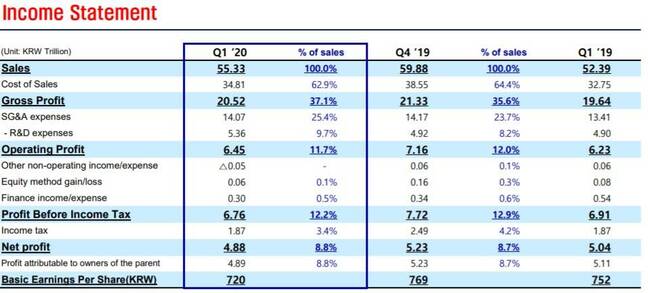 Samsung financials for Q1 2020. Click to enlarge
But there's no mistaking Samsung's pessimism.
"Sales and profits of set products business, including smartphones and TVs, are expected to decline significantly as COVID-19 affects demand and leads to store and plant closures globally," the company's results announcement says.
"In the second half, uncertainties driven by COVID-19 will persist as the duration and impact of the pandemic remain unknown."
Samsung's plan is to "focus on optimizing resource allocation in the short term, while continuing to strengthen its technology leadership and develop innovative set products."
The company's detailed financial data can be found here [PDF]. ®
Bootnote: Apologies for the Cats references.