This article is more than 1 year old
You can get a mechanical keyboard for £45. But should you? We pulled an Aukey KM-G6 out of the bargain bin
And it's not terrible
Mechanical keyboards were once a niche commodity owned primarily by enthusiasts who were all too happy to pay top dollar. Now it's possible to get one for as little as £25 on Amazon, thanks to China's prolific factories and the availability of cheap Cherry-clone key switches.
The subject today is one such bargain-basement keyboard: the Aukey KM-G6, which currently retails on Amazon for £45, although has previously been sold for as little as £33, according to tracking site CamelCamelCamel.
Now, I know what you're thinking: £45 is an awful lot for a keyboard, considering that Brits can get basic membrane ones for a tenner in Tesco. While that's true, £45 is pretty cheap in the context of mechanical keyboards, which often cost as much as a new Chromebook. Or a phone. Or a couple of pints of flat lager in Central London.
Trust me, I know. I've got more keyboards than an army of Kraftwerk cover bands. I once spent nearly $200 on my Ergodox EZ ergonomic split keyboard. A few months ago, I forked out more than £130 for a Mac-compatible clone of the iconic IBM Model M buckling-spring keyboard — the Unicomp Spacesaver. And my favourite keyboard to write copy on (so far, as this is an ongoing obsession) is the gorgeous Fnatic Streak, which at the time cost me about £120.
What I'm saying is that in the grand scheme of things, £45 really isn't that much. But do you get what you pay for, or is the Aukey KM-G6 a hidden bargain?
LED me show you what we're working with
At first glance, the KM-G6 feels like a robust, weighty piece of kit, tipping the scales at nearly 1.2kg. Compared to feather-weight standard keyboards, like the Apple Magic Keyboard 2, you can clearly notice the difference. But it doesn't feel bad — in fact, it helps the device stay in place on even the slipperiest of surfaces. Height-adjustable feet allow you to change the angle of the keyboard, while the included keycap-remover allows you to mix up the layout.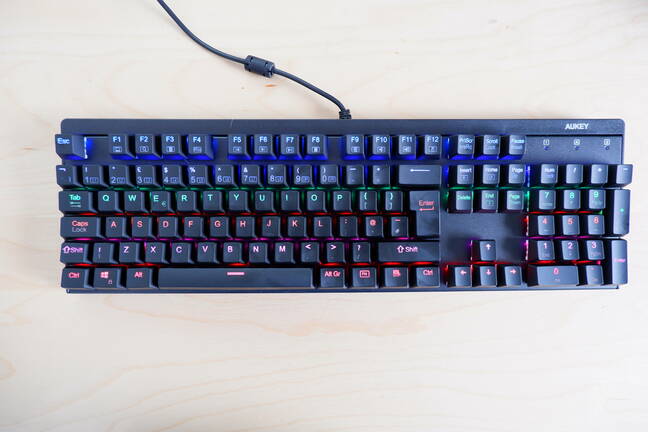 The KM-G6 is an absolute unit
Still, there are a few barnacles. The cabling isn't the best I've ever seen, feeling comparatively thin in comparison to other more expensive models, like the Unicomp Spacesaver. And I'm not wildly keen on the printing on the keycaps. They're not nearly as legible (or, for that matter, pretty to look at) as those found on the excellent Logitech MX Keys (which is perhaps the best non-mechanical keyboard I've ever used).
The KM-G6 is a gaming keyboard. That fact is made abundantly obvious with the inclusion of RGB lighting under the keys, which may prove divisive for some users, depending on where you stand. Personally, I'm a fan, although it's worth noting that you cannot customise the lighting to the same extent as you can with, say, the Fnatic Streak and MiniStreak.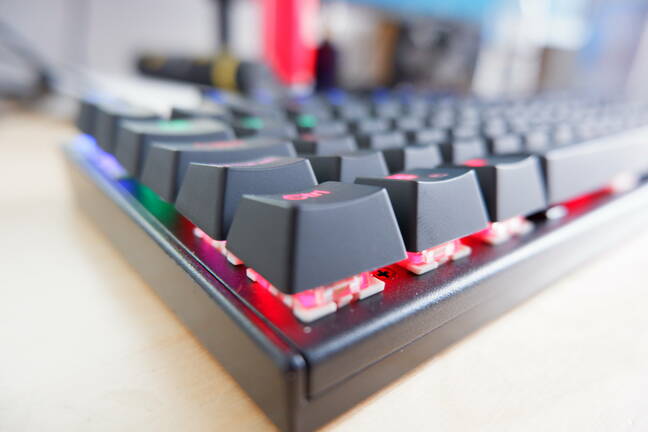 Taste the rainbow
Curiously for a "gaming keyboard", the KM-G6 uses a copy of Cherry's ultra-tactile, mega-clicky MX Blue switches from a vendor called Outemu. I say "curiously", because gamers tend to use switches that are lighter to press, like the non-clicky MX Blue or MX Black. Because MX Blue switches require more actuation force in order to register a press, they're not particularly well suited for applications that require lightning-fast reflexes.
Nonetheless, Outemu's effort did a sterling job of mimicking the audibility of the genuine article. They're loud. Not quite as loud as the buckling switches found on the IBM Model M and its subsequent clones, but sufficiently noisy to earn you a formal complaint from your colleagues, if you happen to still be working in an office. Nonetheless, if you get a nice writing cadence going, you can serenade yourself with a delightful crescendo of noise that helps you sooth yourself into your work.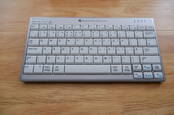 Going Dutch: The Bakker Elkhuizen UltraBoard 950 Wireless... because looks aren't everything
READ MORE
They're not as consistent, though, and that's really hard to ignore. Some keys feel squishy. Others feel firm. Some sit in between. And these inconsistencies feel especially apparent when you're skiving from work to play a quick round of Counter-Strike.
Overall, though, the KM-G6 is excellent for the price, and serves as an excellent introduction to mechanical keyboards for those wanting to wet their toes without spending a fortune on a Das Keyboard 4. And I'd be happy to recommend it for an entry-level audience, particularly one that spends their days writing code and articles.
Gamers, on the other hand, would be better suited buying something like the Fnatic MiniStreak — which can be configured with more suitable brown switches, and is overall an excellent keyboard, with solid build quality and comfort, and oodles of customisation options.
And if you're a developer or writer looking for a long-term investment, I'd encourage you to see how far your budget can extend. Those with the deepest pockets should check out the Ergodox Planck, a comfortable and compact keyboard with fabulous build quality. Similarly, if you're prone to bouts of nostalgia, you might also want to consider getting one of Unicomp's Model M-inspired keyboards. They're big and bulky, but also loud and extremely fun to type on.
You don't have to spend a fortune...
I'm endlessly fascinated by the steady march of cheap mechanical keyboards. A few weeks ago, Amazon reduced the price of this Outemu Blue-equipped kit to £25 — down from the usual £60. I bought one, and a couple of days later it arrived on my doorstep.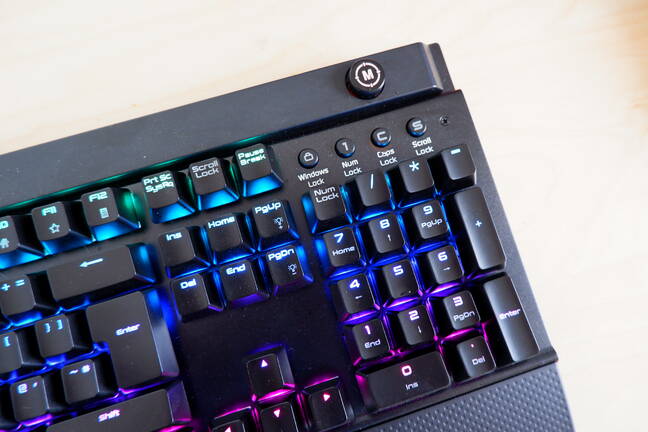 Amazon's 'Basics' effort
It's interesting to see how the two devices contrast. Amazon's surpasses the KM-G6 in a few areas: like LED programming and comfort, the latter thanks to the inclusion of a wrist rest.
But the KM-G6 had an advantage in others, including build and spacing. Despite the inconsistencies I mentioned earlier, I found the Aukey manifestly more enjoyable to type on.
So much of this comes down to personal preference, but I mention it to highlight the fact that there's a decent amount of competition at the entry level. And it's always wise to see what your options are.
But you get what you pay for
That notwithstanding, there are some compelling reasons to spend more on a mechanical keyboard, if you can.
Some pricier ones, like the Unicomp Model M-clones, are fairly serviceable, with the manufacturer selling most of the parts that degrade over time. This makes your purchase a long-term investment that can follow you throughout your career.
Other keyboards allow you to replace the key switches, mixing and matching as required. The Ergodox Planck is a great example of that. You might, for example, want to use linear red switches for the WASD keys, while keeping blue switches everywhere else for when you're not gaming. It's entirely up to you.
And more expensive keyboards tend to use technologies like USB-C, which is convenient if you've got a laptop that has ditched old-school USB entirely. The latest and greatest Macs are the best example of this.
More expensive keyboards also tend to use the pricier Cherry key switches, rather than third-party clones from vendors like Gateron, Kalih and Outemu.
One of the factors that led to the explosion of cheap mechanical keyboards was the expiration of many of Cherry's key switch patents in 2014. While some of these clones come close to Cherry in terms of quality – Gateron being the best example – others aren't quite as good. There's something to be said about using the tried-and-tested genuine article.
More expensive keyboards tend to have their own ergonomic advantages. The Ergodox EZ, for example, is designed to limit wrist movement. Other keyboards have better and more comfortable wrist guards. And since you likely spend the majority of each day before a computer, ergonomics is worth considering. ®