This article is more than 1 year old
Human intelligence may not be enough: US military turns to machine learning algos to predict food shortages
Supply chain issues will be hit hard as workers get sick
Analysis The US Department of Defense is building machine learning tools to help predict critical food and medicine shortages as America grapples with the coronavirus pandemic.
Supply chains are buckling under the strain of COVID-19 as meat processing plants, factories, and warehouses wind down their operations or shut up shop as employees fall ill. Tyson, one of the world's largest meat suppliers, warned that grocery stores would face shortages until facilities were up and running again.
The United Food and Commercial Workers International Union, a labor union representing over a million people in retail, meatpacking, pharmaceutical, and manufacturing industries, estimated that at least 72 of its members had died from COVID-19 so far. US President Donald Trump, however, signed an executive order labelling meat plants as necessary businesses that must stay open under the Defense Production Act.
What impact this will have on consumers is not yet clear. Here's where the DoD might be helpful: The Joint Artificial Intelligence Center (JAIC) set up to assist the military in adopting AI technology is currently developing software to predict food shortages across the US, down to zip code level.
"We started asking ourselves, how can AI help manage resource allocation?," JAIC's chief technology officer, Nand Mulchandani, told The Register. "We need to get ahead of the curve in order to prepare."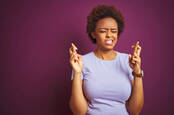 CFOs are crossing fingers and hoping a second wave of COVID-19 does not appear, says Gartner
READ MORE
The goal for the AI project known as Salus - after the Roman goddess of health and safety - is to build a dashboard to help commanders from the Northern Command, a branch of the US military that provides civilian support, and leaders from the National Guard, plan logistics or resupply missions.
The platform uses multiple machine learning algorithms to predict food supplies in the next three, seven, 14, to 30 days in advance by looking at inventory stock and consumer behaviour.
"The tools will help us understand supply chain problems so that we know where the military should be deployed. If we know that a particular area is going to have a huge shortage of a certain type of medicine in 14 days, we can show them the models and they can think about how they're going to move resources from one place to another."
Salus works by aggregating data from commercial vendors selling "food, medicine, perishables, or boxed goods." Mulchandani said that in the previous disasters like Hurricane Katrina in 2005, National Guards were sent into retail stores to count things like the number of water bottles. "We shouldn't have to do that now. This tool will give us the capability to manage supply chains more easily."
The software is still a prototype at the moment, however. JAIC has a small team of people working together with commercial vendors to collect data and build the platform. Mulchandani did not reveal any preliminary results, but said their models were able to see the effects of panic buying during the earlier stages of the coronavirus pandemic as people prepared to hunker down to shelter at home.
Although the tool was built with the current COVID-19 crisis in mind, he hopes that it'll be applicable to other logistical issues in the future for the US military. ®