This article is more than 1 year old
$31bn spent on cloudy infrastructure in Q1 on back of employees' mass migration to home working
Digital gold rush spurred by global pandemic: Big 4 bag 62% of market
Cloud infrastructure providers are making bank following the mass migration of millions of workers from their offices to their homes, with spending on services leaping by 34.5 per cent in Q1 to $31bn.
A surge in the use of online collaboration tools, e-commerce and consumer cloud services fuelled the hike, though another consequence of governments ordering to stay indoors was a slowdown in complex enterprise migrations as all but the most important IT tasks were paused.
"This is uncharted territory for cloud service providers, giving a boost to consumption but creating new and often challenging customer dynamics," said Alastair Edwards, chief analyst at Canalys.
"Cloud has become an essential tool to support business continuity in these difficult times. Many organisations have turned to the public cloud for its burst capabilities to meet a sudden spike in use. Platforms such as Zoom would not have been able to operate without the flexible infrastructure provided by the major cloud providers."
In terms of vendor rankings, the big four grabbed 62 per cent of the $31bn customers spent on cloud infrastructure in the quarter. AWS was again the biggest recipient at $9.92bn or 32 per cent of the total market, growing 33 per cent year-on-year but outpacing rivals in dollar terms.
Microsoft came next with $5.27bn, up 59 per cent, giving it 17 per cent of market sales, down from 18 per cent share a year earlier. Microsoft has already admitted it faced capacity constraint for Azure, partly due to the rapid increase in the adoption of Teams and Windows Virtual Desktop, which forced the company to limit consumption for some services and new customers.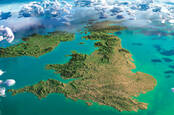 'Azure appears to be full': UK punters complain of capacity issues on Microsoft's cloud
READ MORE
In joint third spot were Google Cloud Platform and Alibaba, both with 6 per cent of the spoils ($1.859bn). Google grew 34.2 per cent for the year and Alibaba, which had 5 per cent market share a year earlier, grew 61 per cent.
Canalys said Google data and analytics platform drove demand in the public sector, healthcare, service providers and financial services. The Chocolate Factory also continue to hire sales and technical people.
The "others' section of Infrastructure-as-a-service providers made up the remainder of the market, including the likes of IBM and Oracle.
Microsoft, the analyst noted, is adding server capacity in regions where its data centres dealt with the highest demand; AWS opened bit barns in Cape Town and Milan; Google plans to open four server farms in Asia; and Alibaba is spending $28bn to grow its cloud business over the next three years.
Commenting earlier this week on the current crisis during a Q3 results call with Wall Street types, Microsoft boss Satya Nadella said: "As COVID-19 impacts every aspect of our work and life, we have seen two years worth of digital transformation in two months."
One part of tech that is being held back by the crisis is chunky consulting-led enterprise work, said Canalys. These range from "SAP migrations, hybrid cloud deployments and other transformational projects".
The researcher added that cloud investment in the verticals hit hardest by the outbreak of the virus - aviation, hospitality, construction, tourism and manufacturing - have stalled or are being scaled down.
Matthew Ball, chief analyst at Canalys, said businesses had been forced to "rapidly" reshape their investments and IT infrastructure strategies this year.
"Cost reduction and protection of capital are priorities as the global economy weakens," he said. "Anything on-premises that does not improve current business continuity initiatives has taken a back seat as companies rethink budgets in the face of growing uncertainty or struggle to access physical data centres."
He added: "At the same time, companies around the world urgently need access to flexible compute capacity to support remote working, collaboration, online commerce and security. Cloud infrastructure is an obvious short-term solution. This has been a boon for most, if not all the major players." ®