This article is more than 1 year old
Apple on 2020 so far: OK, so iPhone sales are a bit glum. Wearables, music, apps, vids to the rescue... almost
Hope on the horizon, says Cook, but it will take some time to get there
Apple's cash cow looks to be a bit unwell, as iPhone sales took a rare hit this coronavirus-ridden quarter. On the upside, the Cupertino idiot-tax operation banked billions from folks snapping up wearables, music, apps, video and more to kill their lockdown boredom.
For the second quarter of Apple's fiscal 2020 [PDF], ending March 28:
Revenues of $58.3bn were up just one per cent from $58.01 in the year-ago quarter, but easily cleared Wall Street's expectations of $54.5bn.
Net income of $11.25bn was down around three per cent from $11.56bn in Q2 2019.
Non-GAAP EPS of $2.55 were up four per cent from $2.46 last year and topped estimates of $2.26.
iPhone revenues of $28bn were down seven per cent from the year-ago quarter's $31bn.
Mac revenues were $5.3bn, down four per cent from $5.5bn in Q2 2019.
iPad revenues weighed in at $4.37bn, down 10 per cent from $4.87bn the year-ago quarter.
Wearables, home, and accessories (things like the Apple Watch and headphones) reported record revenues of $6.3bn, up 19 per cent from $5.1bn.
Services revenues logged in a record high of $13.35bn, an increase of 14 per cent from $11.45bn last year's quarter, as punters stuck at home during the pandemic turned to the iTitan for entertainment. "[We saw] all-time revenue records in the App Store, Apple Music, video, cloud services, and our App Store search ad business," said Apple CFO Luca Maestri. "And we also set a March quarter record for Apple Care. Our new services, Apple TV+, Apple Arcade, Apple News+, and Apple Card continue to add users, content and features while contributing to our overall services growth."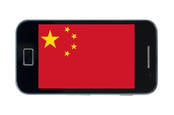 More than one-fifth of smartphone sales evaporate in China as pandemic grips Middle Kingdom
READ MORE
Amid the dreary iPhone numbers is the fact that the next handset in the family is behind schedule due to the coronavirus pandemic disrupting its supply chain. Don't feel too bad for the Cupertino giant: it had $192bn in cash on hand, down from $207bn the previous three months.
Apple execs told financial analysts to expect a continued drop in iPhone sales next quarter as well, and CFO Luca Maestri has called off any forecasts for the full year's numbers due to uncertainty surrounding the ongoing pandemic.
Part of the problem, explained industry analyst Rob Enderle of the Enderle Group, is that Apple relies heavily on manufacturing facilities in China that were hardest hit by the virus outbreak, making it harder for Apple to run its assembly lines as usual.
"Firms that build physical things will always be more vulnerable until full automation," Enderle told The Register. "This exposure is because they place workers close to each other, and they depend on human distribution for now, and, as we know, humans are the weak link when it comes to illnesses."
There is also some optimism for a looming bounce back, as Apple boss Tim Cook noted the iGiant's operations in China are returning to normal, and global sales are also looking better.
"In the second half of April we've seen an uptick across the board," Cook told analysts. "It's not related to a certain geography or product. Part of it is due to our new products, part of it is due to the stimulus, and part of it is customers knowing this is going to take a while and they want to get some new purchases lined up."
Apple shares were down 2.7 per cent in after-hours trading at $285 per share. ®