Dell to unleash hybrid server/storage boxen that can run virtual machines
Long-awaited storage consolidation to go hyperconverged lite so that workloads can run next to data
Dell will next week announce a significant refresh and consolidation of its storage range and at the same time try to reinvent storage arrays as computing appliances for data-centric workloads.
Dell's storage range has had numerous overlaps for years, thanks to its acquisitions of Compellent and EMC, plus its home-grown kit. In late 2019 your humble hack was told the company was planning to "crystallise" its range.
The Register understands that fruits of that effort will emerge next week at the same time the company would have run Dell Technologies World, when successors to the Unity, Compellent and VNX ranges will be revealed.
The key innovation is that the new boxes won't just store and shift data: they'll also run workloads. We're told this will be possible because VMWare's ESXi hypervisor will run on the new boxes.
This isn't an entirely new arrangement. VMware counts VSAN as one of its hyperconverged offerings because it allows VMs and the virtual storage to run in the same hardware. And that hardware is essentially a server with a lot of disk slots. Which is what storage arrays basically became from the mid-2000s onwards after Intel started making Xeons-for-arrays and storage vendors jumped at the chance to use more commodity components instead of having to build big chunks of their own hardware.
We gather Dell won't push its new boxes as either fully-fledged hyperconverged infrastructure or virtual SANs. Instead it will be offered to bring data-centric applications closer to data and as an alternative to fully-fledged hyperconverged infrastructure.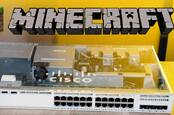 Are you fixing that switch? Or setting it up as a Minecraft server?
READ MORE
The Register understands the new workload-handling capability will be branded "Apps On".
Launches of this sort usually include software partners ready to run in the new environment. The Register can imagine business intelligence and business application vendors could see this as a nice way to get their products into the so-hot-right-now edge computing arena.
The concept also gets Dell into the space AWS is carving out with its Snowball appliances.
This idea could also create a new niche somewhere between small servers and hyperconverged appliances, with a dash of edge appliance (think Riverbed) thrown in for good measure. And it also sounds good for VMware, which gets to manage and secure workloads in this environment, then run the networks they need with NSX and VeloCloud SD-WAN. ®