NASA today introduced to the world the American astronauts set to ride an American rocket into low-Earth orbit from American soil, a journey that will be the first of its kind since the final Space Shuttle launch in 2011.
If all goes to plan, Robert Behnken and Douglas Hurley will lift off from a Kennedy Space Center launchpad in Florida on May 27, sitting in a SpaceX crewed Dragon capsule, riding a SpaceX Falcon rocket. Their destination: the International Space Station. It will be the first all-American blast-off in nearly a decade, and SpaceX's first time ferrying humans to and from the heavens.
The aim of the mission, code-named Demo-2, is to test the Dragon's suitability for future trips. Success means NASA can send astronauts to space using American tech from US land without having to pay Russia millions to use its rockets and facilities. For nearly a decade, the US space agency has relied on Russian Soyuz rockets taking off in Kazakhstan.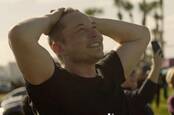 NASA makes May 27 its US independence day from Russian rockets: America's back in the astronaut business after nearly nine years
READ MORE
Russia's prices have been increasing steadily since 2010, and have ratcheted up to an eye watering $79.7m per person per rocket launch. By partnering with SpaceX, and Boeing when it's ready, NASA hopes to drive down costs as well as return to independence. SpaceX's reusable Dragon ball is also set to take America's Victor Glover, Mike Hopkins, and Shannon Walker, and Japan's Soichi Noguchi – a team dubbed Crew-1 – on a longer six-month mission to the ISS later this year.
"We need to attain access to the ISS," said Jim Bridenstine, NASA's administrator, during a press briefing on Friday. "Costs have gone up significantly to buy a place on Russian rockets."
Kirk Shireman, the program manager for the ISS at NASA's Johnson Space Center, agreed: "We're looking forward to not having to negotiate by price. We're looking forward to where we can trade a place on an American vehicle for a place on the Russian vehicle."
Unlike your typical manned spacecraft, the crewed Dragon capsule has fewer manual switches and knobs for the astronauts to twiddle with. Instead, the ride to and from the Space Station will be mostly controlled by the pod's autonomous systems. Behnken and Hurley can take over in emergency situations using control panels to maneuver the spacecraft. They will have a few opportunities after launch and just before it reaches the orbiting science lab to manually takeover to test the spacecraft's flight capabilities.
Gwyne Shotwell, president and chief operating officer at SpaceX, told journalists earlier today she felt like her heart is in her neck. "I think it's going to stay there until we get Bob and Doug safely back from the ISS," she said. "But between now and then, we still have work to do."
Here's a diagram showing how the Falcon 9 will take the capsule up to the International Space Station, with the rocket returning to Earth to be reused: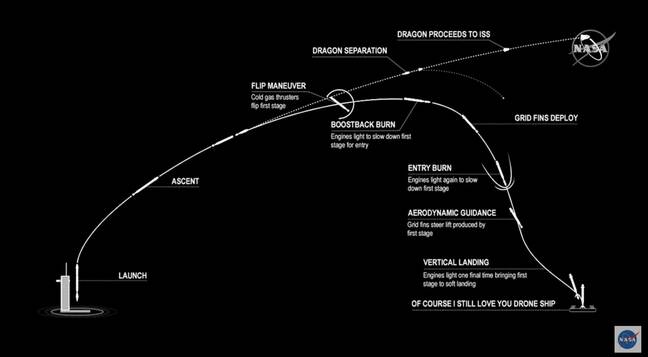 Image Credit: SpaceX
The plan is to launch the duo from Cape Canaveral. Behnken and Hurley are expected to reach the Space Station some 15 or so hours later, arriving sometime in the morning of May 28, US East Coast time.
The manned Dragon will dock with the space lab, rather than berthing using the station's robot arm: the capsule is designed to be able to hook up with its target pretty much automatically. Then the 'naut pair will hop into the station, and join fellow NASA crewmate Chris Cassidy and cosmonauts Anatoly Ivanishin and Ivan Vagner. Their return date hasn't been determined yet, although SpaceX's capsule is expected to be in place for about 120 days to check solar radiation effects.
"We'll keep them in orbit as long as we can then we'll bring Demo-2 home and launch Crew-1," said NASA's Shireman. "We're watching the prep of Crew-1 vehicles, and when that's done that's when we want to bring home Demo-2. We want to maximise utility on board the ISS."
SpaceX has designed special flight suits of fire-resistant material for the astronauts. These provide oxygen, maintain pressure and temperature, and sport an integrated communications system so the 'nauts can talk to one another with their helmets on, Benji Reed, director of crew mission management at SpaceX, said.
"We see them as a subsystem of the vehicle that is critical to safety just in case there is a loss of atmosphere or air pressure," Reed added.
Behnken and Hurley will plug their suits into their seats during the ascent and descent phases. Once they get into orbit, they can slip out of the suits, and prepare the capsule for docking.
"We'll get something to eat and have some sleep," said Hurley.
"We'll eat similarly to what astronauts eat on the ISS," Behnken added. "But we don't have an oven and we don't have a way to add water, so no rehydrated food. We'll be eating MREs just like what we did in our childhood or early on in our careers."
As they return to Earth, the Dragon ball will re-enter the atmosphere, and four parachutes will be deployed before it splashes down into the ocean. The vehicle will be retrieved and fixed up for Crew-1 as the astronauts return to solid ground. Today, SpaceX released video of its emergency capsule safety system that protects the crew in case of disaster after lift-off, which also shows the parachute-based landing procedure:
The 'nauts have another full week of training left before they hunker down for a quarantine period on May 16 to prevent them bringing the coronavirus and any other sickness to the Space Station.
"The disappointing aspect of this pandemic is that we won't have the luxury of family and friends there to watch the launch. But it's the right thing to do in this current environment," said Hurley.
Viewers can watch the historic spaceflight live on NASA's website on Wednesday, May 27, with the lift-off scheduled for 2032 UTC (1632 ET or 1332 PT). ®