This article is more than 1 year old
International space station connects 100Mbps symmetric space laser ethernet using Sony optical disc tech
As the Interplanetary Networking Special Interest Group launches discussion of Solar System Internet
The Japan Aerospace Exploration Agency (JAXA) has achieved a 100 Mbps ethernet connection from the International Space Station to earth, using lasers!
The feat was accomplished using a widget called SOLISS - the Small Optical Link for International Space Station – that went aloft in late 2019 and was then installed on Japan's "Kibo" module on the ISS.
SOLISS packs lasers co-developed by JAXA and Sony Computer Science Labs, the Japanese giant's research arm. Hiroaki Kitano, president of the Labs, said those lasers were derived from the tech Sony developed on optical discs. In that application the lasers travel up to one millimetre. Now that tech has been proven across around 400 kilometres.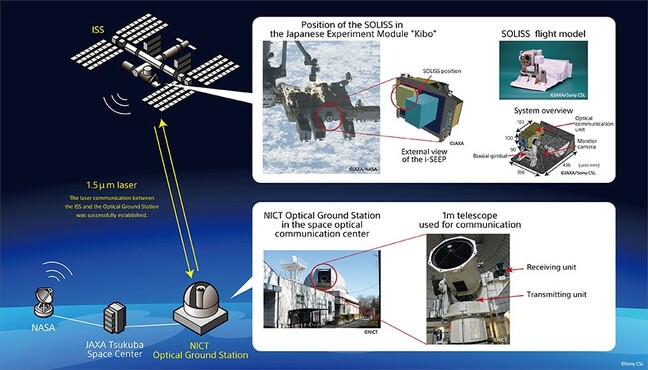 The Sony/JAXA space laser Ethernet rig. Click to enlarge
"This technology is not only high precision and low power consumption, but also provides new opportunities due to its small size and mass production technologies," Kitano said.
And in March the tech proved capable of beaming laser light from the ISS to a ground station at 100 Mbps, with some HD images as payload.
JAXA was chuffed at that outcome and extolled the virtues of the laser-net as offering the chance to scale bandwidth rather better than is possible with radios. "The success in bidirectional laser communication demonstration using long-established optical disk technology and the Ethernet standard will likely create a pathway to ultra-high speed (low latency) data communication, and real-time mass-data communication for cross-links between satellites and between a satellite and ground stations in the future," the agency said in its canned statement.
Left unsaid was that lasers are point to point, which could make for some challenges.
However the wider challenge of running networks in space are already under consideration: the Interplanetary Networking Special Interest Group on Wednesday announced a Webinar on "Space Internet Governance".
That event will consider:
1. Do we need a governance model for the Internet in space (what will become the Solar System Internet, or SSI)?
2. If so, what kind of framework should such a governance model have?
a. Who are the stake holders?
b. What kinds of input should they receive?
c. What kinds of enforcement are available (or desirable)?
d. Do existing organizations or models exist that could be useful in forming a framework for moving forward?
Vint Cerf "has expressed his willingness to participate in a panel discussion" and the SIG hopes to secure other high-profile speakers. ®