This article is more than 1 year old
Xiaomi what you're working with: Chinese mobe-flinger proffers two Redmi Note phablets for UK market
IR blasters and headphone jacks, likely south of £350? Oh my
Chinese phone-maker Xiaomi's onslaught into the UK market continues with two more phones: the MediaTek Helio G85-powered Redmi Note 9, and the more upmarket Redmi Note 9 Pro, which uses the Qualcomm 720G platform.
Of the two, only the standard Redmi Note 9 is a new product, with the Pro version previously released in India, albeit with the hilariously convoluted name "Redmi 9 Note Pro Max". It's almost like they took a page out of Apple's book for that one. Which admittedly wouldn't be a first for Xiaomi, but we digress.
The vanilla Note 9 measures 6.53 inches, and uses a fairly standard 60Hz FHD+ LCD panel. The maximum RAM configuration is 4GB, while for storage, it's 128GB. If you opt for the base model, you'll get just 3GB of RAM to play with, plus 64GB of storage.
Again, it uses the Helio G85, a brand-new chip. As is fairly standard with Mediatek, the chip's aimed squarely at the mid-tier of the market, and uses a 12nm process with eight cores (two A75 clocked at up to 2GHz, with six Cortex-A55 cores). There's also a Mali-G52 MC2 GPU clocked at up to 1,000Mhz.
On the optics front, you get a quad-camera setup, with a 48MP primary shooter, an 8MP ultra-wide-angle lens, a 2MP macro sensor, and a 2MP depth sensor. There's also a 13MP selfie camera, which is concealed within the top-left corner of the display in a small hole-punch.
The Redmi Note 9 Pro variant is a little better, with the base RAM upped to 6GB – although users are only given storage options of 64GB and 128GB. If you hoard apps and Netflix films, you'll swiftly fill this up. Thankfully, both models come with a microSD slot.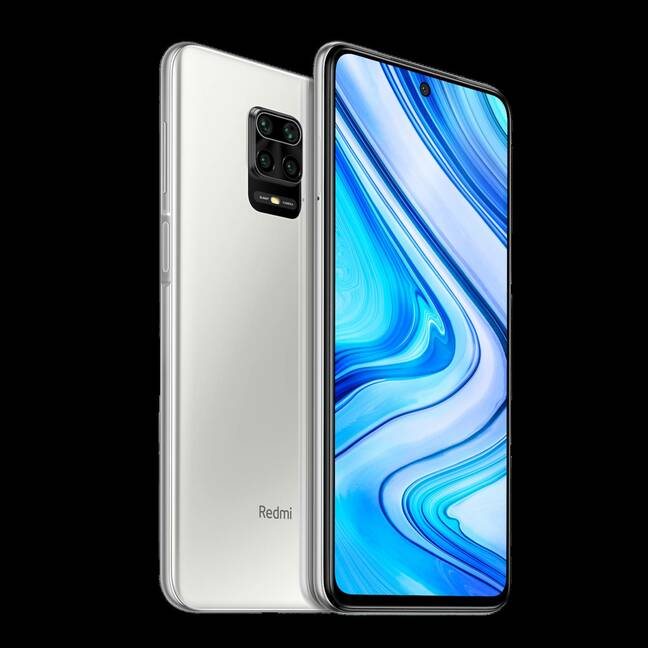 Redmi Note 9 Pro
The display is slightly bigger, at 6.67 inches. On this model, the selfie camera is located within a hole-punch in the top-centre of the screen. This has been upgraded to 16MP, with a slightly bigger pixel size, so it should (in theory) perform better in low-light conditions.
The primary rear-facing camera is improved over its cheaper brethren, too. The main shooter is a 64MP affair, which is partnered with an 8MP ultra-wide-angle lens, a 5MP macro camera, and a 2MP depth sensor.
Both devices have their fair share of commonalities. To the delight of our readers, they both pack IR blasters and headphone jacks – each increasingly rare in the smartphone world. Both have the same 5,020mAh battery, although the Pro variant supports 30W fast charging, while the entry-level Redmi Note 9 can only do 18W.
UK pricing and availability are yet to be confirmed – although we'd be very surprised if either device costs more than £350. ®