This article is more than 1 year old
Oracle faces claims of unequal pay from 4,000+ women after judge upgrades gender gap lawsuit to class action
IT giant accused of paying women less than men doing exact same roles
A lawsuit filed against Oracle on behalf of six women seeking to be paid as much as their male colleagues has been certified as a class action – a legal milestone that will allow thousands of women a chance to have their gender discrimination claims heard.
In 2017, Xian Murray, Sophy Wang, and Rong Jewett, who had been employed by the American database giant as a project lead, a principal application engineer, and an application engineer, respectively, sued the corporation claiming that it pays women less than men for similar roles.
Three other women, Marilyn Clark, Manjari Kant, and Elizabeth Sue Petersen, subsequently joined as plaintiffs. They claim that they were paid on average $13,000 less per year than male Oracle employees in similar positions.
Earlier in 2017, the US Department of Labor sued Oracle for allegedly underpaying women and minorities. The DoL expanded its lawsuit in January last year, arguing Oracle had deprived women and minorities of $400m in wages.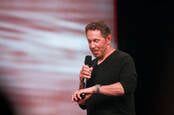 Oracle staff say Larry Ellison's fundraiser for Trump is against 'company ethics' – Oracle, ethics... what dimension have we fallen into?
READ MORE
In November, Oracle filed a counterclaim against the government, insisting the Uncle Sam didn't have the authority to block contracts or challenge Oracle's payment practices.
A recent study by job search biz Hired found "six times out of 10, women are offered less money than men to do the exact same job at the exact same company."
On Thursday, California Superior Court Judge Raymond Swope, of San Mateo County Superior Court in Redwood City, issued an order certifying the plaintiffs' proposed class of 4,100 women.
In his order, Judge Swope expresses skepticism of Oracle's claim that people with the same job code at the company do not perform similar work. "First, Oracle's contentions do not appear to be consistent with Oracle's own documents and PMQ [Person Most Qualified] testimony," the order says.
It goes on to assert that as a matter of law, Oracle cannot set individual pay within a job code based on experience, education, and performance if it does so inconsistently between men and women. And it concludes that there's enough statistical evidence and commonality among the discrimination claims that a jury can hear them as a group.
Hopefully, we'll be able to get Oracle to change its approach going forward
"We are heartened that Judge Swope certified the class as it will give all 4,100 women in the class a chance to assert their claims that they were paid less than men in the same jobs," said James Finberg, an attorney at the San Francisco firm Altshuler Berzon LLP, in a phone interview with The Register. "And hopefully, we'll be able to get Oracle to change its approach going forward."
The potential cost to Oracle could reach several hundred millions dollars if a jury finds in the women's favor.
Technology companies have been subject to numerous claims of payment discrimination based on gender and race, but they're not often certified as class actions. Instead, they tend to be resolved individually, often without any public consequence for the company or change in pay practices.
Google is fighting a pay discrimination lawsuit in California. Uber in 2018 paid $10m to settle pay discrimination claims brought by 400 female and minority engineers.
Concern about the issue of pay equity has prompted some companies like Adobe, Apple, Cisco, eBay, and Intel to release data about gender and employee pay.
Oracle meanwhile intends to continue arguing that it did nothing wrong.
"This is just a procedural step unrelated to the merits of the case and we look forward to trying those in court," an Oracle spokesperson said in an email to The Register. ®