This article is more than 1 year old
That awful Butterfly has finally fluttered off: Apple touts 13-inch MacBook Pro with proper keyboard, Escape key
The end of an exruciatig seres of ucky keyoards
Ding dong, the godawful Butterfly keyboard is dead. With today's launch of the refreshed 13-inch MacBook Pro, Apple's loathed keyboard tech is finally gone — although it'll no doubt linger in the form of refurbished and second-hand units.
The new 13-inch MacBook Pro uses the same scissor-switch-based keyboard found on the 16-inch MacBook Pro and the new MacBook Air. This is effectively the component also found on Apple's pre-2015 laptops. In addition to being much more comfortable to type on, it's also less susceptible to being gunked up by, er, dust.
It's also worth noting that the TouchBar is now standard across the entire MacBook Pro lineup. This has been one of Apple's more divisive recent innovations, with some regarding it as a convenience, and others a white elephant. Part of the problem was earlier versions didn't have a physical Escape key, instead using a virtual one located on the OLED strip.
The good news is that Apple has given in to the moans of Vim users, unable to escape from their code, and returned the physical Escape key to its rightful place. And parallel to it is a TouchID key, allowing users to authenticate and buy things with their fingerprints.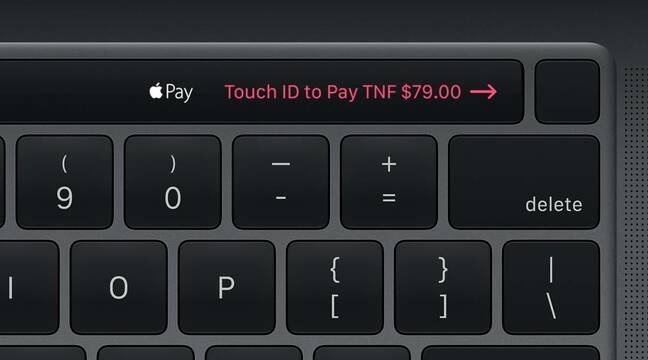 The Touchbar pointing at the MacBook Pro 13 new special top-right key ... Click to enlarge
The new MacBook Pro gives punters the option to choose between an 8th-generation Coffee Lake and 10th-generation Ice Lake i5 and i7 chips. As you'd expect, if you want to use Intel's latest silicon, you'll have to fork out for the more pricier models, with the entry-level £1,299 unit limited to the older 8th-gen chips.
The base RAM configuration is 8GB for the entry-level and mid-tier model, upgradable to 16GB more for an extra £100. If you splash out £1,800 for the top model, you get 16GB by default, which can be configured to 32GB — a "bargain" at £400 extra.
Meanwhile, storage has been doubled across the board, with the base configuration lifted from 128GB to 256GB on the cheapest two models, and 512GB on the most expensive one. Coffee Lake-equipped machines can be configured with up to 2TB of flash storage, while Ice Lake models support drives of up to 4TB in size.
If you're curious, a 13-inch MacBook Pro with a 2.3Ghz quad-core Ice Lake i7, 32GB RAM, and 4TB of storage comes to £3,599. Meanwhile, a maxed-out Coffee Lake model, packing a 1.7Ghz i7, 16GB of RAM and 2TB of storage comes to a more palatable £2,499.
The 13-inch MacBook Pro still comes with Thunderbolt 3 as the primary connectivity option, with no legacy HDMI or USB-A ports to be found. The cheaper Coffee Lake models pack just two ports, while the wallet-busting Ice Lake variant has four.
Curiously, there's no option to upgrade to a dedicated graphics card. Instead, you've got to make do with Intel's Integrated graphics: the Iris Plus Graphics 645 on the entry and mid-range variants, and the Iris Plus Graphics G7 on the pricier one. That'll obviously dent the appeal of the more portable 13-inch MacBook Pro with audio-visual creatives, as well as developers who often use their GPUs to blaze through tasks that otherwise would take some time, like generating neural network models.
If you're looking for an upgrade, the new 13-inch MacBook Pro is available to order from today, with units expected to ship in mid-May. ®