This article is more than 1 year old
Salesforce chief Marc Benioff gets clear view of pandemic, 'new balance' from guru pal
Be. Nice. To. People
Comment "Imagine no possessions," John Lennon sang a few years after meeting a guru Maharishi Mahesh Yogi. The Beatles' path to India followed in the footsteps of numerous intellectuals and beatniks, including Herman Hesse and Allen Ginsberg. In the billionaire software elite, the journey is less common, although not unknown.
Salesforce founder and CEO Marc Benioff told Britain's Daily Mail his life was "forever changed" by meeting Hindu spiritual guru Mata Amritanandamayi Devī (aka Amma, or mother).
The paper, better known for its immigrant-loathing, curtain-twitching readership, recounted Benioff's stratospheric rise in his early career: "A millionaire by 25, he was the youngest ever vice-president of software giant Oracle, drove a Ferrari and seemed to have it all.
"But in his heart he knew that something was missing."
Everybody say, "aaaahhhh". So, in search of that missing thing, he followed the cliché and travelled to India, as part of a three-month sabbatical from Oracle to travel the world.
"It was like a scene from a movie," the CEO recalled. "We're in the middle of nowhere in this tiny Indian village and everybody's dressed in white and orange and there's incense wafting."
So, what was the insight? The hidden piece of sacred knowledge the religious leader was able to pass on?
"She looked right at me and said, 'In your quest to change the world, don't forget to do something for somebody else'."
That's it? The sum of the life-changing advice which Benioff travelled halfway around the world for amounts to: "Be nice to people"?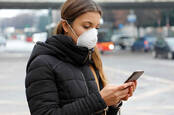 UK COVID-19 contact tracing app data may be kept for 'research' after crisis ends, MPs told
READ MORE
Still, the story struggled on, knee-deep in vacuous platitudes, promoting, as it was, the newspaper's Mail Force Charity push for PPE equipment, which might well have been provided by adequate taxation of people like, oh... The Daily Mail's owner, the Right Honourable Viscount Rothermere, Jonathan Harmsworth, who has seen fit to (legally) squirrel away riches offshore.
As well as contributing to the Mail's campaign, Salesforce has done its bit. It has backed $5m in grants to small businesses to help with cashflow during the COVID-19 economic fallout and it is introducing back-to-work software to help employees book lift space.
So far, so philanthropic. But then... Oh no, Marc, where is your PR? Benioff then went on to pontificate (uninterrupted) on the good that may come of the deadly pandemic. "I think the world is being shown a new set of values we can live by. It's an evolution to truth, an evolution to a level of unity for humanity," he said.
"This virus does not discriminate. It doesn't matter what religion you are, or gender, or sexual orientation or the colour of your skin," Benioff added. "The virus goes after all of humanity with equanimity, so that is unifying for us to realise that we are one community."
Stop! Hold it! The virus may not discriminate, but it highlights existing inequalities: poor areas are hit hardest. And for whatever reason, black and other ethnic groups are hit harder than white populations while men seem to suffer more than women.
Still, without irony, he continues: "I'm here in San Francisco and I'm perched on a cliff and when I look out the air has never been clearer, the water has never been bluer, there's animal life landing here on the beaches in California that we haven't seen for a long time. We're being presented with a new level of harmony with the planet and being asked, 'Can we achieve a new balance in our lives and what will that mean?'"
Whatever it means, we can be sure of a few things. Benioff will continue to get bonuses for his company's performance, like the $2.3m he got last quarter. And as for giving up possessions, there is as much chance of the celebrities singing the cringe-worthy rendition of John Lennon's Imagine abandoning their own worldly goods as the Salesforce founder giving up his uninterrupted view of the Pacific Ocean. ®