'VPs shouldn't go publicly rogue'... XML co-author Tim Bray quits AWS after Amazon fires COVID-19 whistleblowers
'I'm sad, but I'm breathing more freely' says former exec
Tim Bray, a co-author of the original specifications for XML, has ended his time as a VP and distinguished engineer at Amazon Web Services in outspoken fashion, quitting in dismay at the treatment of Amazon's warehouse workers.
Full of praise for Amazon's cloudy arm, AWS, and wringing his hands over the loss of "the best job I've ever had", Bray quit on 1 May in light of "Amazon firing whistle-blowers who were making noise about warehouse employees frightened of COVID-19."
Bray had already had some involvement in disquiet within the bowels of Amazon regarding the company's activities, and was one of 8,702 Amazon employees who had signed a letter calling for action from the company on "the global climate emergency."
Amazon boss, and frightfully wealthy person, Jeff Bezos committed $10bn for dealing with the impact of climate change in February 2020.
The arrival of the COVID-19 era saw Bray become increasingly concerned about what he was hearing regarding Amazon's warehouses. "Stories," he said, "surfaced of unrest in Amazon warehouses, workers raising alarms about being uninformed, unprotected, and frightened." Amazon's official line, he said, was "that every possible safety precaution was being taken."
Indeed, a recent posting by the retailer trumpeted: "Our top concern is ensuring the health and safety of our employees."
The firing of two user experience designers, Emily Cunningham and Maren Costa, in April appears to have been last straw for Bray. The pair were involved with the Amazon Employees for Climate Justice (AECJ) group, also responsible for the public letter, and were reportedly fired for "repeatedly violating internal policies."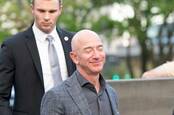 As Amazon's stock price soars and Bezos adds to his billions, affiliates face massive cuts in their commissions
READ MORE
The tipping point looks to have been a virtual event to allow workers from around the world to discuss their experiences working within Bezos' box-shifting empire.
"Management," said Bray, "could have objected to the event, or demanded that outsiders be excluded, or that leadership be represented, or any number of other things; there was plenty of time.
"Instead, they just fired the activists."
"VPs shouldn't go publicly rogue," he added. Remaining a VP would, however, mean effectively signing off on the activities. "So I resigned."
Bray worked for Google and Sun in the past and, as well as his efforts on XML, has also worked on the W3C technical architecture group in addition to the JSON project. More recently, he has been involved in the Trans Mountain Pipeline dispute.
It all started so well back in 2014, with Bray joining AWS in order to remain in Vancouver rather than head to Mountain View. Indeed, in reference to the cloudy element of his erstwhile employer, Bray said "it treats its workers humanely, strives for work/life balance, struggles to move the diversity needle, and is by and large an ethical organisation."
However, as he ruefully stated: "anyone who's unhappy can walk across the street and get another job paying the same or better." Not so those toiling in some of the other tentacles of the retail behemoth.
The Register has contacted Amazon for its side of the story, but it declined to comment.
And Bray? "I'm sad, but I'm breathing more freely." ®