Apple funnels Worldwide Developer Conference 2020 through iOS app, website amid coronavirus lockdowns
Hey, finally an Apple event The Reg can attend, sorta, right?
---
Apple says it will host its annual Worldwide Developer Conference on June 22 within the confines of an iOS app. Users of macOS can view the event on the Apple Developer website.
Crucially, this year the show is free for all developers, registered with Apple or otherwise. Tickets for last year's confab cost $1,600 a head to attend in person.
The iGiant cancelled the in-person version of its conference in March due to the coronavirus pandemic and public health concerns, promising to deliver the event "in an innovative way."
Apple's innovation, we now know, takes the form of stuffing its show into the Apple Developer app, available through Apple's App Store for iPhone, iPad, Apple Watch (can you imagine the frustration?), and Apple TV. What isn't clear is if this will get them any extra benefits over browser watchers.
The app is not available for those using macOS on the desktop, which is required for creating Apple platform apps. The reason is that Apple's integrated development environment Xcode, which handles app code signing, only runs on macOS at the moment. That's expected to change, however, with the release of iOS/iPadOS 14 this fall.
The presumed arrival of Xcode on iOS/iPadOS looks like an effort to lay the groundwork for a long-rumored chip architectural shift toward notebook and desktop hardware running on Apple-designed Arm-compatible silicon, possibly as soon as next year. Initially, these devices are expected to run macOS but, at least for the MacBook and MacBook Pro line, that may not be the case for long – iOS/iPadOS is better suited for mobile device power management than macOS.
If this transition is still in the cards – it has been talked of for years, partly as negotiation leverage with Intel, and always delayed – Apple is likely to say something to its developers either at this year's WWDC or next year's, depending on its hardware timeline and whatever economic and logistical hiccups follow from the COVID-19 crisis.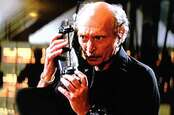 Inside our three-month effort to attend Apple's iPhone 7 launch party
READ MORE
The Register asked Apple about the exclusion of macOS users from its Developer App. We've yet to receive a response.
Most macOS users will have an iOS device to fall back upon or perhaps an Apple TV to view the show if stay-at-home orders are still in place in late June. And there's always the open web, long a second-class citizen in the Apple ecosystem, for those willing to view the show through Apple's Safari browser or even non-Apple software.
It's unclear why anyone would try to tune in to WWDC using an Apple Watch unless there was no other option or to settle a bet.
The Apple Developer app debuted last November, but it's new mainly in name: It replaces the company's WWDC app which has been around for at least a decade. The recent branding change brought a broader set of developer-oriented resources into the app and the ability to manage one's Apple Developer Program Membership.
Other technology platform companies have taken similar steps with their respective developer events, albeit in less "innovative" ways.
Microsoft cancelled the physical iteration of its Build conference and plans to hold a virtual version online later this month. Facebook cancelled the in-person portion of F8, originally scheduled to begin today, and promised "a series of updates throughout the year" instead. Google cancelled Google I/O entirely. ®