This article is more than 1 year old
Microsoft teases more hybrid VMware-on-Azure action
For now, you get a preview of the official Azure VMware Solution to play with and a promise of availability in H2 2020
Microsoft has fired up the first previews of its VMware-on-Azure service and hinted at an expanded hybrid offering.
The VMware/Microsoft/Azure relationship is complicated and started with bad blood when, back in 2017, Microsoft announced an unsupported vSphere-on-Azure service that turned out to be the result of Microsoft using Cisco/NetApp FlexPod converged infrastructure rigs. FlexPods are built to run vSphere at scale in multitenant environments and made it possible for Microsoft to do vSphere-as-a-service.
VMware was blindsided by that move and got rather cranky about it. Tersely-worded blog posts were exchanged, then re-written, before a détente of sorts was reached once VMware realised Microsoft had effectively turned itself into just another managed service provider paying for VMware licences. It was pretty hard to object to that, so the fight faded away.
By April 2019 the relationship was on a better footing, when Dell, VMware and Microsoft promised to create a supported VMware-on-Azure service. But before that got off the ground along came "Microsoft Azure VMware Solution by CloudSimple". CloudSimple was a vendor that offered a way to package VMware to run in clouds. Azure picked it up in May 2019 and Google did likewise in June 2019. And then Google bought CloudSimple in late 2019.
Which brings us to today and news that the approved-by-all-parties version of VMware-on-Azure – the "Azure VMware Solution" – has reached preview.
Microsoft's described it as "a first party service … directly owned, operated, and supported by Microsoft" and therefore delivers "greater quality, reliability, and direct access to Azure innovation for our customers while providing you with a single point of contact for all your needs."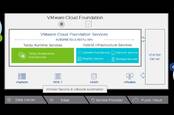 VMware finally delivers its K8s and vSphere combo
READ MORE
Enough with the Kool-Aid. What you get today is a VMware-on-Azure environment that offers VM migration, elastic expansion, DR and the chance to employ Azure's entire ecosystem into apps running on the service. The new service also allows use of the Azure Hybrid Benefit to bring Microsoft licences into VMware environments and includes three years of free Extended Security Updates for Windows Server and SQL Server 2008. As the Azure Hybrid Benefit is a very cost-effective way to acquire Microsoft licences and Extended Updates don't come cheap, these are strong incentives for Windows-on-VMware users to consider Azure.
However the new offering falls short of the full VMware hybrid cloud offered by the likes of IBM and AWS.
But it looks like the two companies are working on that, because Microsoft's announcement says: "We are excited to announce more about future hybrid capabilities as they relate to Azure VMware Solution, soon."
How soon is now? Neither party is saying yet.
For now we can say that the preview runs in two Azure regions - US East and West Europe Azure - and the service is expected to become official in the second half of 2020.
VMware has a strong array of cloud partners. Beyond its own network of 4,000-plus service providers running VMware-powered clouds, Azure, AWS, Google, IBM and Alibaba all offer Virtzilla-as-a-service. But all of those clouds save IBM have a cloud-in-a-box offering to take their wares on-prem and, when VMware isn't in the room, talk them up as a better route to hybrid cloud than messing with legacy vSphere. VMware fights back with its recent integration of Kubernetes as its way to show it can give the cool kids without disrupting years of tooling built on VMs. ®