This article is more than 1 year old
Colombian tech minister quits, heads off to overseas job as aborted .co contract sale triggers in-depth probe
Drama surrounds trendy lucrative top-level domain
Analysis Colombia's startup-friendly .co has erupted in controversy again following the resignation of the government minister responsible for putting the domain registry out for tender last year.
Technology minister Sylvia Constaín left her post last week, stating she had accepted a job outside the country and thought to be in America. One of the last things she did, however, was support how her government department had run the contract bidding process for .co, claiming it had been "transparent and professional."
Others are less sure. Two of the four companies that applied to run the top-level domain registry have accused the Colombian government of deliberately designing the process to favor a specific company: US-based Afilias.
Following a number of revelations which included the fact that the published technical requirements effectively excluded every company except Afilias, and that a reference to a different Afilias-run registry appeared inexplicably in the official documentation for .co, the dispute drew national and international attention. The minister was asked pointedly of any meetings she had held with Afilias executives. She and Afilias denied any secret and underhand dealings had or were taking place. Pictures later emerged of her seated next to Afilias' CTO at a public round-table event.
Facing accusations of collusion, Afilias withdrew its bid, and the IT ministry, MinTIC, awarded the contract back to its current operator, Neustar, albeit on far better terms for the South American nation: previously the Colombian government had received six per cent of profits from .co domains, and under the new contract, it will receive a whopping 81 per cent of net income.
Hold up
That wasn't the end of the saga, however. Neustar was due to sign the new contract on April 27, but another bidder, the .Co Consortium, asked for a formal review of the process, questioning the scoring system that appeared to put its bid to run .co ahead of Neustar's and claiming it had found a series of procedural errors. It asked for the process to be suspended pending a full investigation.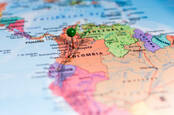 Neustar wins back Colombia's controversial .co domain contract after slashing profit margin by 75 per cent
READ MORE
The implication is that Neustar won the process in some part because it was the easiest and least controversial way to resolve the controversy and before Constaín left her post. There was also the fact Neustar, before Afilias dropped out, sued MinTIC claiming there was a contractual expectation that its existing contract to run .co would be extended, rather than put out afresh for tendering, and so awarding the contract once again to Neustar would end that legal battle.
That formal review of the process, requested by the consortium, concluded last week [PDF], and determined that the award should, in fact, be suspended pending a fuller investigation. But then on Monday, a judge overseeing the Neustar lawsuit decided MinTIC had every right to put the contract out to rebid and so allowed the process to stand.
What that means is the issue now sits in the hands of the new IT minister, Karen Abudinen, who will have to decide before the end of the week – May 8 – whether to ignore the formal advice of Colombia's control authority, Procuraduria, and award the contract to Neustar, or suspend the award until there is a fuller investigation, or scrap the process entirely and start again.
If all that wasn't enough, the contract rebid could also complicate the sale of Neustar's registry business – including .co but also .biz, .nyc, and .us – to enormous internet registrar GoDaddy; a deal that was announced just days after Neustar thought it had the .co contract in the bag but which may need to be renegotiated or postponed if the process is reopened.
And why exactly?
To which one obvious question is: why is everyone fighting so hard over the internet registry for Colombia? And the answer is, of course, money.
A decade ago the Colombian government decided to capitalize on the fact its assigned two-letter country-code top-level domain was .co – a possible contender to the all-powerful .com internet address. It ran a bidding process and surprised everyone when it handed the contract to a young Colombian entrepreneur, Juan Diego Calle and his .Co Internet team, who vowed to turn the previously very small and insignificant .co registry (it was run by a university) into a global brand.
Incredibly, .Co Internet pulled it off, creating a domain name brand that was seen as cool by entrepreneurs and startups across the globe, and the registry went from a few thousands domains to 10 million in just a few years. Even more incredibly, the purchase price of a .co domain was double the expected market price – something that is still largely set by the wholesale price of a .com.
That made the .co registry immensely profitable, while also giving its a cachet and brand that other registries desperately tried to emulate. In 2014, Neustar, which ran the back-end of .co, bought .Co Internet for $109m. Calle left but most of his team remained.
At the same time, an expansion and consolidation of the global internet registry market, which is worth billions of dollars annually, meant that expiring contracts to run the largest and best-known registries became a pitched battle between companies, particularly Afilias and Neustar.
Neustar attempted to steal Afilias' highly profitable .org back-end contract in 2016, which Afilias won but only after slashing its invoices by a third. The $1.1bn .org selloff, nixed last week by ICANN, seems even more ridiculous considering the top-level domain doesn't even own its own back end systems.
Afilias then took Australia's .au contract from Neustar in 2017, and Neustar retaliated by winning India's .in contract in 2018 from Afilias. As a result, Afilias went all-out to grab the .co contract when it expired in 2019. As it turned out, it seems it pushed too hard and ended up having to drop out.
With accusations of government corruption flying, a huge contract in the offing, and the IT minister resigning just days after the government called for the process to be suspended due to irregularities, the controversy will not die down.
Earlier today, Senator Ivan Name Vasquez tweeted a video of a TV news item digging into the controversy and denounced the tendering process as "full of doubts and suspicious movements." He promised to "exercise my constitutional duty" to kill off the award and run a new process to decide who should run his country's internet addresses.
The problems may only just have begun for .co. ®
Updated to add on May 7
We understand the new Colombian IT minister has decided to delay the decision on whether to sign the new .co contract for 10 days.