This article is more than 1 year old
If at first you don't succeed... IBM finds Watson a new job: IT ops and cloud-to-the-edge computing in the 5G era
Big Blue hopes solution in search of a problem might have finally found one
Since it burst onto the scene as a Jeopardy-winning AI in 2011, IBM's Watson has been top of the league for interesting solutions in search of a problem.
Enter new IBM CEO Arvind Krishna and the company is ready to have another crack: this time it is talking up a mixed bag of IT ops, hybrid cloud, edge computing and 5G.
Announced at IBM's Think Digital online conference today, Big Blue's latest tack came with two elements. Firstly, it imagined a world with reasonably abundant 5G connectivity - which seems quite far away - and asked how IT would support applications and integrate data across cloud and edge environments in this brave new world. Secondly, it launched Watson AIOps in an attempt to pull in customers whose IT teams must manage their stack in a hybrid cloud settings.
Both the edge computing and AIOps punts come from combining technologies IBM acquired with the Red Hat merger with the AI stuff Big Blue has been building for many years, and this is no accident, according to an excited Gartner research VP Chirag Dekate.
"When Arvind Krishna took over and Jim Whitehurst, the former Red Hat CEO, became president of IBM, some of the first messages that started trickling out of IBM were that they wanted to focus on cloud and AI. Both of these are deeply embedded in the recent announcements," he said.
Edgy push
The first looks to IT working across multiple environments, from a hybrid cloud to various forms of edge computing: semi-autonomous robots in distribution warehouses for example.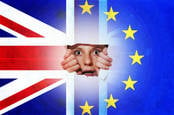 IBM Watson GPU cloud cluster Brexits from London to Frankfurt – because GDPR
READ MORE
A stand-out feature relies on Open Horizon, an open source project which promises autonomous management of more than 10,000 edge devices simultaneously. Built into the IBM Edge Application Manager, the technology is said to enable AI, analytics and IoT enterprise workloads to be deployed and remotely managed.
IBM also has a Telco Network Cloud Manager, running on Red Hat OpenShift to enable automation capabilities and orchestrate virtual and container network functions. It's built to help service providers manage workloads on both the Red Hat OpenShift and Red Hat OpenStack platforms and provide new services as 5G becomes more widespread.
It is also launching a set of edge applications and services, aimed at the pockets of those needing to do visual processing, process optimisation and connected manufacturing, to name but a few.
All rely to some extent on AI, but it is in IT ops that IBM is introducing the Watson brand – the centrepiece of its AI strategy.
Another attempt to position Watson as jewel in its AI crown
Watson has, at best, had a mixed reception since it was first introduced commercially in 2014. It has failed to impress in medicine, prompting IBM to cut back on its drug discovery activity.
It has also failed to build sustainable growth;
Watson's latest outing may be easier for IT departments to understand and digest, said Dekate.
"AI is fundamentally hard, not just because of analytics, but beyond that, it requires end-user organisations to prepare datasets for training and identify the right use cases that can actually deliver value. It is incredibly complicated for end users. By realigning itself, and refocusing on the cloud and AI ecosystem is evidence that IBM recognises some of these pitfalls," he said.
"IBM is now aligning the right technology stacks, together with the Watson AI Ops and you're seeing them apply AI in a context that is directly impactful to CIOs' agendas."
But it is not alone. As Dekate points out, the top three cloud providers all have an interest in this area. AWS, Azure and GPC all have edge computing strategies, while AWS and Azure both have AI Ops products. Meanwhile, HPE has kit for edge computing, as do more niche systems and data management companies such as Software AG.
Dekate said IBM is now getting the "vision" part right. It remains to be seen if it can walk the talk and convince the market with execution. ®