Phil Davis, the former global sales chief and president of Hybrid IT at HPE who exited the business suddenly last week, has landed at AWS, where he will head up operations in Asia Pacific and Japan.
The exec had previously ran Dell's Enterprise Solutions team from Singapore and then managed HPE's local enterprise group from the same location before he returned to the US amid a global restructure. The reorg saw him named as HPE's head of sales worldwide and then added Hybrid IT to his duties – putting in his charge of a division accounting for 81 per cent of the firm's 2019 revenue [PDF].
Fitted out as the new managing director for APJ at AWS, Davis said on LinkedIn: "Today marks the first day of my new journey as the head of AWS Commercial sales in Asia Pacific and Japan." He talked up the " opportunity to lead the team."
"Having lived and worked in Singapore for almost a decade, I'm very happy to return to this dynamic region, and look forward to working closely with our customers, helping them deliver significant value across their businesses," he said.
HPE said last week that Davis was emigrating to Australia where his family already live. He will be based in Brisbane.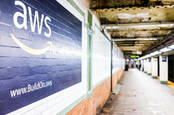 'VPs shouldn't go publicly rogue'... XML co-author Tim Bray quits AWS after Amazon fires COVID-19 whistleblowers
READ MORE
This now means AWS has hired two former HPE execs running two of its regional outposts: in addition to Davis, Andy Isherwood left HPE in 2017, where he'd been the boss of EMEA, to run AWS' business for the same region.
The plan behind hiring these execs is to build a bigger corporate foothold with larger organisations as the cloud matures. And just like Isherwood has hired a number of former colleagues from HPE to fill the ranks at AWS EMEA, Davis may follow suit.
AWS, which continued to outpace infrastructure cloud rivals in Q1 in dollar growth terms, has 76 availability zones in 24 geographic regions with three more regions planned including Japan and Indonesia, as well as Spain.
Davis will know intimately the pressure points at HPE and legacy tech vendors in general, and will have spent the past years trying to convince customers that putting more workloads onto AWS servers wasn't necessarily the best way to go.
Now he'll be doing the opposite and promoting the array of portfolio services, which includes a hybrid pitch with AWS Outposts, although Davis' former employer, HPE, told us in December that Outposts is priced higher than AWS public cloud services to deter customers from selecting it. At the time, HPE also talked up the perils of AWS lock-in.
HPE has yet to comment on who will replace Davis or if it will use his departure to restructure: previously all country managers reported to Davis, and Davis himself reported to HPE CEO Antonio Neri. ®