This article is more than 1 year old
Contact-tracing is basically CRM so we think we've got it sorted, says Salesforce
Coming real soon now as-a-service. Details on data collection and price? Coming soon, promise
Salesforce has created a contact-tracing as-a-service product and promised it's coming real soon now.
The SaaS company will offer the service as part of a new Work.com platform that includes a variety of services aimed at helping businesses to re-open safely in a coronavirus-compromised world.
Rob Seaman, senior vice-president for healthcare and life sciences at Salesforce said, in a very ShinyHappy™ video, that the company feels it can offer contact-tracing because: "It's actually quite a bit like CRM."
"You're trying to identify and understand relationships, but instead of doing that to better market to or service your customers, in this case you are doing it for the health of your constituents or employees," he added.
Seaman promised that Salesforce's offering will make it possible to identify hot spots "as big as, say, the State of California, down to something as small as a hardware store in Laramie county Wyoming." He promised it will be "empathetic" and offer "expectations about what to do next" in the event of a positive test.
The tool's being aimed at government and private buyers. In the public sphere, Seaman imagined it could be used by professional contact-tracer. As such workers are in short supply, and rather busy at present, tools to help their efforts could well be timely and appreciated.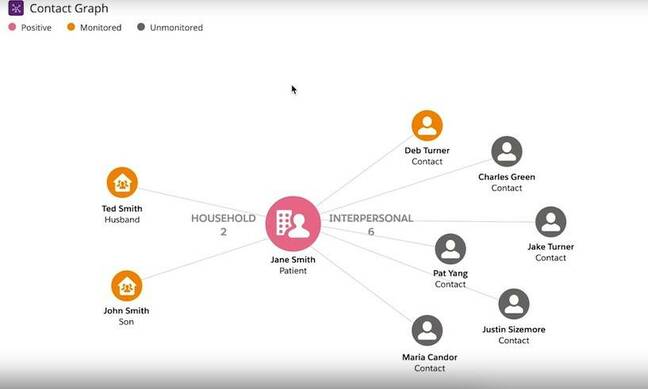 The most detailed bit from Salesforce's promo vid for its contact-tracing service. Click to enlarge
However Salesforce's contact-tracing currently has "Coming Soon" status – with no word on when it will arrive or what it will cost. The company's demo offers a view of a social graph and not much else. Salesforce is also silent on how it will trace contacts – a Work.com "playbook" about mentions contact tracing just three times in 39 pages and offers no details on how Salesforce proposes to collect, protect and share data. ®