This article is more than 1 year old
Uber, Lyft struck by sue-ball, no, sue-meteorite in California after insisting their apps' drivers aren't employees
Plus: Airbnb lays off 25% of workforce amid coronavirus pandemic lockdowns
Ride-sharing app makers Uber and Lyft have been hit with a massive lawsuit from the US state of California for failing to recognize their drivers as employees.
The Golden State is asking for $2,500 for each violation of its Unfair Competition Law, and up to another $2,500 for violations perpetrated against senior citizens or individuals with disabilities. The eventual bill could be massive, if the lawsuit succeeds.
The sue-ball is an enforcement of a California law, AB5, that was passed last year and came into force on January 1. The law specifically targeted the gig economy, and made it much harder for companies to claim that people that work for them are "independent contractors" rather than employees.
As such, the lawsuit [PDF], issued by Xavier Becerra, California's Attorney General, is a critical test of the new rules and will be carefully watched by hundreds of other companies in California and the US.
In a press release, Becerra said the state was suing Uber and Lyft for "misclassifying their drivers as independent contractors," a situation that "deprives workers of critical workplace protections such as the right to minimum wage and overtime, and access to paid sick leave, disability insurance, and unemployment insurance."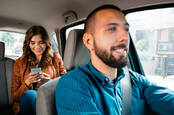 The gig (economy) is up: New California law upgrades Lyft, Uber, other app serfs to staff
READ MORE
The lawsuit seeks a permanent halt to the practice as well as "civil penalties that could reach hundreds of millions of dollars."
In some respects, the timing couldn't be better: the coronavirus pandemic has put the issue of workers rights into the political foreground – something that Becerra explicitly noted. "Sometimes it takes a pandemic to shake us into realizing what that really means and who suffers the consequences," he said in a statement. "Uber and Lyft drivers who contract the coronavirus or lose their job quickly realize what they're missing."
But he also claimed that American taxpayers suffer by "having to help carry the load that Uber and Lyft don't want to accept… We intend to make sure that Uber and Lyft play by the rules."
Relief
The impact of the gig economy was clear when a federal relief bill to provide financial support to those put out of work thanks to the COVID-19 health crisis had to explicitly include non-employees. Ordinarily such workers would not be in a position to receive unemployment benefits because no employers had paid into the state unemployment fund on their behalf.
The reason that companies like Uber and Lyft continue to insist that their drivers are independent contractors is almost entirely financial: as employees the companies would have to provide benefits including sick leave, family leave, and unemployment insurance. These would typically add around 30 per cent to the cost of each person. Reclassification would cost Uber an estimated $500m a year.
Both companies have their headquarters in San Francisco. City Attorney Dennis Herrera made it clear the upstarts were not going to get special treatment. "We have been building this case for months in partnership with the California Attorney General and our counterparts in Los Angeles and San Diego," he said.
"Uber and Lyft are breaking the law. We are going to put a stop to it. Uber and Lyft claim that properly classifying drivers as employees is incompatible with flexibility. That is a lie. There is no legal reason why Uber and Lyft can't have a vast pool of employees who decide for themselves when and where they work – exactly as drivers do now. These companies simply don't want to do it. Uber and Lyft are selling a lie. They are lying to the public and lying to their drivers."
That's a lot of "lies" in one statement from lawyer.
Other proposals
Uber and Lyft were two of the most vociferous opponents to AB5 as it was debated in the Cali capital of Sacramento and went to some lengths to try to quash it. Just before the law went into effect, Uber also sued arguing that it violated people's constitutional rights and discriminated against tech platforms.
Both companies have also heavily funded a ballot measure that would create a third kind of worker that sits in between contracting and employment where Uber drivers. For example, workers would gain "access to benefits," as well as guaranteed earnings but free companies from having to pay any sick leave, paid time off or compensation if they are injured while carrying out their job.
This lawsuit puts down a solid marker on the issue however. Not that AB5 is perfect. One of the worst aspects (that will be changed) is the fact it completely ignored freelance journalism and decided that anyone writing more than 35 pieces a year for an outlet should be classified as an employee. There are other examples that will require tweaks but fundamentally AB5 was designed with Uber and Lyft specifically in mind.
In response to the lawsuit, a Lyft said in a statement: "We are looking forward to working with the Attorney General and mayors across the state to bring all the benefits of California's innovation economy to as many workers as possible, especially during this time when the creation of good jobs with access to affordable healthcare and other benefits is more important than ever."
Uber said in its statement: "At a time when California's economy is in crisis with four million people out of work, we need to make it easier, not harder, for people to quickly start earning. We will contest this action in court, while at the same time pushing to raise the standard of independent work for drivers in California, including with guaranteed minimum earnings and new benefits."
Elsewhere
In a sign of how hard the gig economy is being hit by the coronavirus health crisis, today Airbnb announced it was laying off 1,900 employees - nearly 25 per cent of its workforce. ®