This article is more than 1 year old
Find your wallet, Apple: Ex-engineer adds eight more patents to lawsuit seeking credit for his developer work
Judge calls for settlement conference as fourth amended complaint filed
A former Apple engineer who claims the iTitan screwed him out of proper credit for his work has added an additional eight patents to his lawsuit against Cook & Co.
In what is now the fourth version [PDF] of a legal claim, filed in California against his former employer, Darren Eastman says he should be listed on no less than 16 patents; 13 of them covering the Find my iPhone service and three covering Apple's Passbook ticketing feature.
The engineer, who is representing himself in the case, told The Register he discovered the extra patents when he "happened to be visiting the PTO [Patent and Trademark Office] and Washington DC area."
Apple argued that Eastman should have added the patents earlier on in the legal process, and asked the judge to refuse them. However, the judge – not for the first time – took Eastman's side and said he had every right to do so.
At the heart of the matter is a series of patents that lists other Apple engineers as co-inventors. Eastman says he should be on the list and through the course of the lawsuit - which he filed in September 2018 - he has extensively documented his work on the same matters as the patents cover.
After he discovered the patents, Eastman says he spent a year trying to negotiate with Apple to add him to the co-inventors but it refused. Apple, for its part, claims that the work was produced by those listed on the patents and since Eastman had no direct interaction with the group, he is, by law, unable to claim credit.
"The method for finding a lost device would not exist today if I hadn't invented it, and, Passbook relies fundamentally on my previous invention for redeeming electronic tickets with a barcode," he told The Register.
A pretty penny
Aside from the professional credit and courtesy, being listed as a co-inventor for such a widely used service, available on billions of phones, can be lucrative.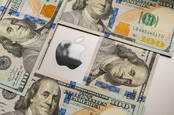 Patently dogged: Apple unleashes lawyers to slash $454m patent rip-off bill – even after Supreme Court snub
READ MORE
Eastman initially requested $364,000 in damages as well as some Apple stock in settlement but his most recent complaint that doubles the number of patents he claims he should be listed on takes off the figure while noting the huge financial value of the patent. "1 per cent of the 2017 digital ticketing market of $113.44bn is $1.13bn and represents an example of lost revenue from Apple's negligence," the complaint states at one point.
Taking on one of the largest corporations in the world through the US legal system is not for the fainthearted and Eastman has been repeatedly set back by Apple's lawyers, with the judge in the case frequently giving him an opportunity to respond and amend his complaint, usually requesting that he supply additional evidence of his work.
As such the initial 46-page complaint has now expanded to 256 pages with 28 exhibits, carefully documenting his work at Apple. Among them after emails to people like Eddy Cue, who is now Apple's senior VP of internet software and services.
One email outlines Eastman's ideas and plans for Find my iPhone and sees Cue respond: "This is a really good idea and something we have on our list to consider."
Apple's consistent position throughout the case has been that Eastman "does not, and cannot, allege that he participated in any joint enterprise or that he collaborated with any named inventor to contribute to any claim of any patent at issue, and he cannot, therefore, as a matter of law, be a joint inventor." Likewise, it argues that he can't be named as a sole inventor because his work only covers a portion of the overall patent.
Its third argument against Eastman is that the work that he has demonstrated he carried out while working for Apple was not new or novel and is covered by "prior art." Although on that point, the judge has repeatedly noted that several specific aspects of the work he has documented are not included in the prior art and appear to stand alone.
Settle?
The case is a difficult one for Apple. It could undoubtedly drag the case out for a decade - just as it did with the VirnetX case - but at the same time it doesn't want to be seen to be bullying a former employee, especially one who is representing himself and who knows many of Apple's senior executives personally.
The judge, Jon Tigar, has also protected Eastman to that extent that he has forgiven a number of missteps in legal proceedings and has rejected repeat demands from Apple to dismiss the case, giving Eastman time to gather evidence and bolster his case.
Most recently, and possibly with an eye to giving both Apple and Eastman a way out of the legal battle, the judge referred both parties to a magistrate judge for settlement (as opposed to a third-party mediator). It remains to be seen whether Apple will back down from its position or Eastman will accept whatever terms Apple is willing to offer.
If that fails the case is due to be heard by a jury in Oakland in June. Apple had no comment at time of going to press. ®