This article is more than 1 year old
Huawei looking to take on Apple in the 'hearables' space... with an almost identical AirPod clone that costs under £100
Bit lacking in the playback stamina stakes, however
Huawei's wireless earbud lineup just got a new addition in the form of the Freebuds 3i, which packs active noise cancellation and a sub-£100 price tag.
Aesthetically, it's obvious that Huawei has cribbed a few notes from Apple's design book, with the Freebuds 3i replicating the long stems of the AirPods, as well as the same pristine white colour. Mimicry, they say, is the greatest form of flattery, and with this effort Huawei is all but kissing Cupertino's ring.
The charging case, however, doesn't follow suit. It's a fairly standard lozenge-shaped affair, clad in white, and with a power capacity of 410mAh. This, Huawei says, provides around 14.5 hours of listening time, which is fairly paltry in comparison to the AirPods Pro (up to 24 hours) and independent efforts, like the RHA TrueConnect (up to 20 hours).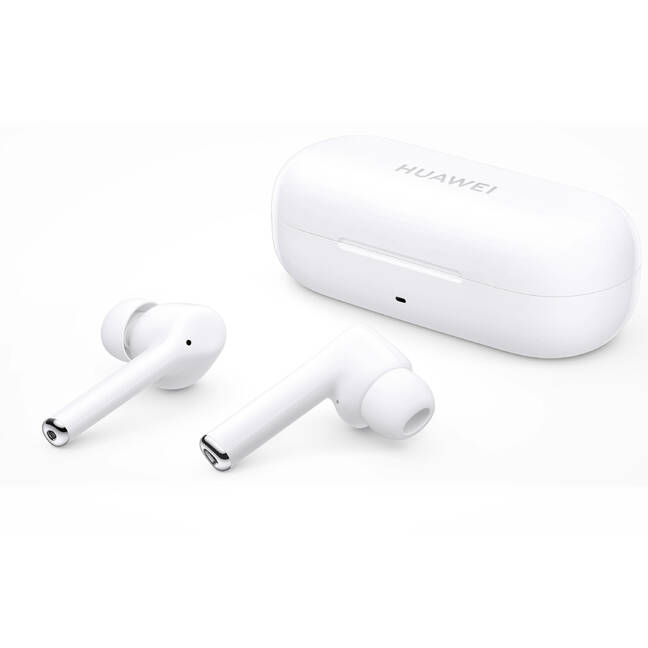 The buds themselves provide 3.5 hours of playback, or 2.5 hours of talk time, between charges. Again, that's not quite as strong as others. The AirPods Pro can handle around five hours with ANC turned off, and 4.5 hours with noise cancellation on. The RHA TrueConnect similarly does a solid five hours of continuous playback between charges.
One surprise is the inclusion of active noise cancelling, which isn't always a given in the sub-£100 category. Huawei reckons this can reduce ambient noise by 32 decibels and wind noise by 6m/s.
There's also Bluetooth 5.1, as well as capacitive controls allowing users to adjust playback and activate noise cancellation. They'll hit stores on 20 May with a price-tag of £89.99.
Coincidentally, Huawei's youth-focused subsidiary, Honor, today confirmed European availability of its own wireless "hearables": the Honor Magic Earbuds. Honor previously announced these in February, at its MWC substitute event.
These look a bit different to the aforementioned Freebuds 3i, with various color options and more obvious Honor branding. However, on paper, they have almost identical specs, with the same battery capacity, driver size and dimensions.
Honor has already released the Magic Earbuds in France, Germany and Italy at the price of €99.90, and plans to follow up with a UK release in the immediate future, where they'll retail at £89.99. ®