This article is more than 1 year old
NUC NUC. Who's there? It's Intel, with a pint-sized 8-core Xeon workstation
Oh mother! Broken compute board? Just slot a new one in
Review Intel's Next Unit of Compute PCs debuted a few years back as a small form box that could hang on the back of a monitor using a VESA mount and screws. The machines were supposed to be easy to work on and fix, but were limited in terms of expansion capabilities and for some users, more power was needed.
Enter the all new NUC workstation: NUC9VXQNX, the X denoting the Xeon CPU. To differentiate these beefy machines, they carry the "NUC Pro" moniker.
This new range of NUC Pros is bigger in size than the recent NUCs such as the Frost Canyon (the hexacore NUC introduced by Chipzilla earlier this year) or its predecessors. Don't forget, this NUC appeals to workstation and power users. I don't think it would have been possible to get all the components included in this NUC into a smaller frame, given that Xeons aren't exactly known for running cool, nor having gobs of expansion potential beyond RAM and disk.
Within its 238mm x 216mm x 96mm frame, the NUC pro packs in an Intel Coffee Lake based Xeon E-2286M CPU with 8 cores, 16 threads that can turbo up to 5GHz and 32GB ECC RAM (Max 64GB in the form of two SO-DIMMs) and NVMe ports up the you-know-what.
This line of NUCs is aimed at prosumers and a very specific type of user: ones who need to support many monitors and/or require significant compute power. More specifically, content creators, AI specialists, data visualization and CAD/CAM users. It has a list of certified applications (AutoCAD and the like).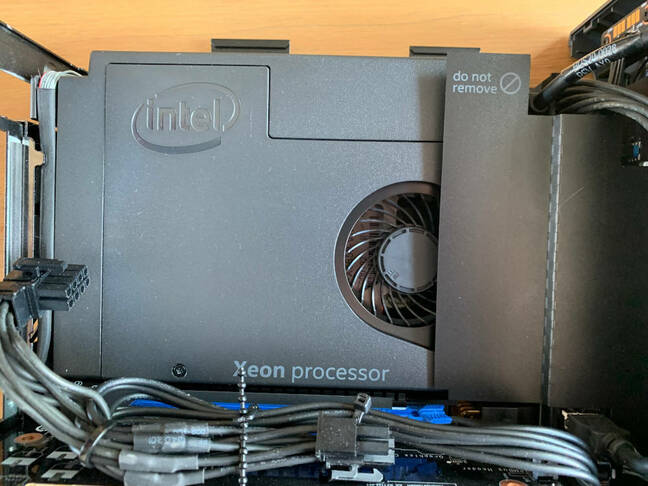 The whole concept of the NUC is centred around a powerful CPU and GPU combo and fast storage. No third-party GPU is available in the SKU range (beyond the onboard Intel UHD P630). It was a deliberate decision by the business. It is a case of "BYOGC": Bring Your Own Graphics Card. It allows the purchaser to choose from a range of GPUs to tailor their specific requirements. Different graphics cards cater to different markets at the specialist end of the range.
The test unit shipped with a PNY P2200 Quadro card capable of driving up to four 5K displays. That's what makes it different... major screen space or GPU compute, your choice, in a small box. A word of caution, though: due to the size of the NUC Pro, any purchaser will need to make sure the desired GPU will actually fit.
Creative types may love it. I think this will be a hit in those small or independent production houses, being able to do a huge amount of work, given its physical size.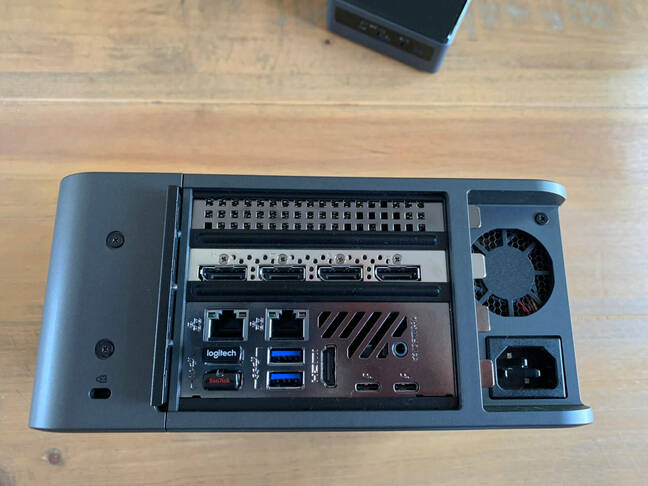 Despite its stature, NUC has some nice connectivity and peripheral options. Unlike other NUCs, it comes with dual 1GB onboard network ports and next-gen Wi-Fi 6 AX-200. Thankfully there are plenty of USB ports on it including four USB 3.1 Gen 2 ports at the rear, alongside two Thunderbolt 3 ports and audio out. To the front, there are more USB ports and a SD card reader. Bluetooth 5 is also included in the mix.
Physically repairing the device is also quite straightforward. To get into it, just unscrew the top cover and the mesh grills pop off the side. Every screw is the same size, so you only need the one screwdriver to work on it. That, and there is actually a paper manual that covers how to strip and replace all the components.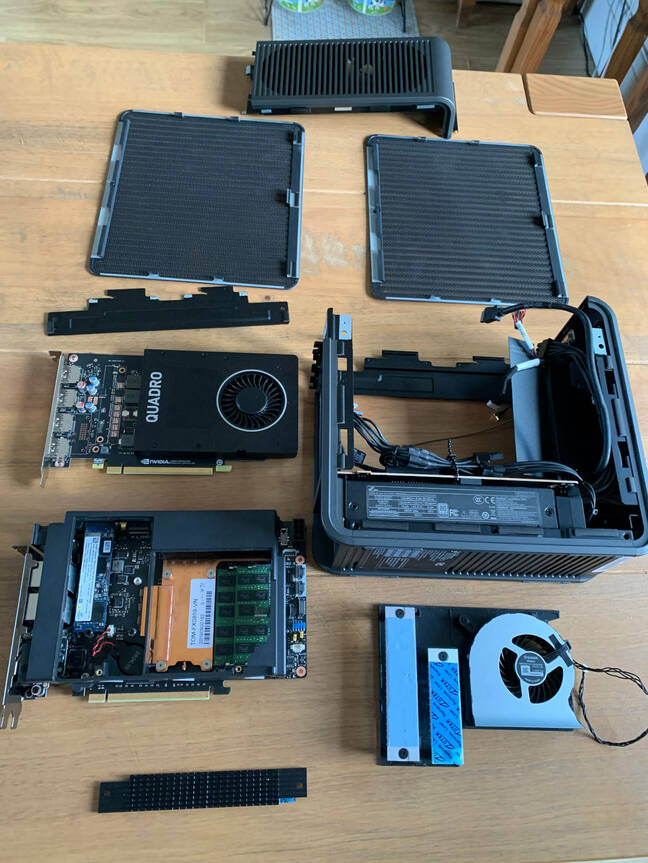 From a systems management perspective, it is a configuration that won't give admins sleepless nights. It has a modular design, so if a unit should go faulty, dropping in another unit becomes relatively easy. No more climbing under dusty desks to replace a unit. Other things to note about it include the three-year warranty and a guarantee that the internal hardware will still stay the same, cutting down on imaging problems and system management.
The NUC has vPro capabilities built in, meaning it comes with a slew of remote management tools and services that would appeal to those with larger fleets, including the ability to remotely manage as though one was sitting directly at the keyboard, even with no OS loaded.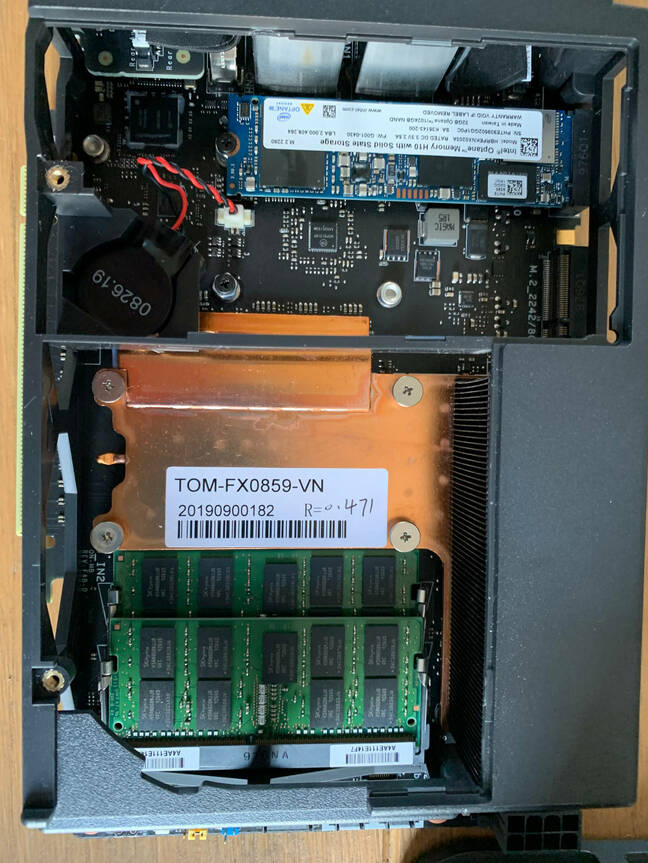 Those expecting a motherboard are in for a bit of shock. This Pro is a rapid departure from previous generations and it has a backplane with two expansion slots and a compute card. The compute card is effectively the PC on a plug-in board. (Those with long memories will remember the module CPU on a board system where one could buy a backplane and just fill it with compute modules. Unfortunately, it never took off in that format.)
Things like this that make it easy to manage. Broken compute board? Just unscrew the retaining lug, remove the old board and put the new board in (remembering to carry over the RAM and NVMe drives). There is an additional NVMe slot at the base of the unit if two NVMe drives aren't enough.
Windows 10 Pro installed by default. There is nothing but the Windows installation and the drivers required to support it. For those of a Linux persuasion, it works as expected. The great thing about the system shipped is that it detected and ran the Quadro (although I had to first remove the Quadro card to install Linux).
In summary, this is a baby-sized workstation that packs a punch. It is well-designed and has some great features, including screws that are retained after unscrewing so the chance of losing small screws in the unit is extremely unlikely. Also upgrading the RAM and NVMe is literally a matter of four screws from start to finish, all with the same screwdriver size. Also, unlike a lot of smaller-form PCs and workstations, it takes a standard PC mains plug, no nasty external brick to lose.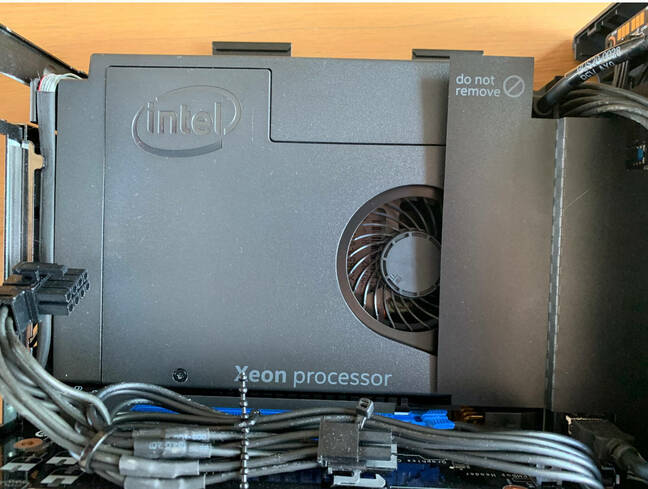 It is a decent alternative to those who want a nice powerful system that just works but don't want to pay the "Apple tax".
As for the price... let's be straight, it isn't a cheap item. Business and pro users might want to look beyond that, though. It does have a three-year warranty, good performance, and great ease of management. The base unit retails at £1,400-ish exclusive of VAT. The unit as reviewed is approximately £2,400 ex-VAT. ®