This article is more than 1 year old
Server sales went through the roof in the first three months of 2020. Enjoy it while it lasts, Dell, HPE, and pals
Enterprise demand set to soften, offset tier-two cloud, telco sales
Global server shipments reached an industry record-breaking 3.3 million units in the first quarter of 2020, marking a 30 per cent year-on-year growth, Omdia analysts estimated this week.
That's not too surprising – and it's not just due to the coronavirus crisis. The first quarter of 2020 followed a strong final quarter of 2019, in which shipments grew 27 per cent year-on-year and sequentially, we're told, as the data-center market expanded. Last year, 11.9 million servers shipped, up four per cent on 2018, it is estimated, raking in $78bn in sales. That revenue total is actually down six per cent on 2018 due to component prices, particularly memory, falling, and the lower costs passed onto customers as savings.
As you'd expect, the first-quarter surge this year largely came at the end of the three-month period when millions around the world stayed inside and worked from home to curb the coronavirus spread. All those video conference calls, cloud-based productivity and collaboration suite subscriptions, and business applications needed machines to run on.
With the manufacturing sector in China slowed by the virus outbreak in January and February, many server vendors reported constrained supply chains, the analysts noted. Once that cleared, however, shipments took off. The second quarter is also expected to produce huge numbers, and has pushed Omida to bump up its full-year server sales estimates by 500,000 to more than 12.7 million units.
And who was buying? Cloud giants mainly from white-box makers, such as Foxconn and Quanta; and smaller cloud platforms, businesses, and telcos from traditional suppliers, such as Dell and HPE.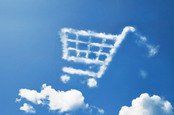 $31bn spent on cloudy infrastructure in Q1 on back of employees' mass migration to home working
READ MORE
"Multiple data points from vendors and end-users indicate that during the first quarter of 2020 cloud service providers continued to expand their server installed base to accommodate a ramp-up of consumer and enterprise demand," said Omida's Vlad Galabov, principal analyst for data center IT.
"Enterprises increased their investment in servers as these organizations prepare employees and business processes for remote working. Meanwhile, telecommunications network providers ramped up server deployments to cope with increased demand on wireless and wired networks. As a result, the server market attained a quarter of year-over-year growth exceeding 30 percent."
Having said that, while it's been a boom time for server makers, any number of businesses and organizations are expected to cut their spending to weather this year's coronavirus's economic storm, which will bring shipments of traditional servers into the enterprise back down to Earth. There may still be strong demand for traditional servers from second-tier clouds and telcos, though.
Meanwhile, tier-one cloud platforms are expected to continue buying up white boxes to support their swelling userbases.
"We now have multiple indicators that the start to 2020 — and likely the entire first half of the year — will see the server market grow double digits over 2019," Galabov said.
"However, it's important to avoid underestimating how much the server market could be impacted by the looming global recession. Many enterprises and governments are likely to postpone investing in new servers in the second half of 2020. Additionally, despite vendors and distributors successfully managing the supply chain challenges in the first quarter of the year, Omdia continues to receive reports of strain and shortages in components globally."
Dell and HPE will have strong demand from enterprises setting up working-from-home conditions and doing final server deployments before lockdown...
Speaking to The Register on Wednesday, Galabov added: "I expect that in the first quarter, Dell and HPE will have strong demand from enterprises setting up working-from-home conditions and doing final server deployments before lockdown, and from tier-two cloud service providers and telecommunication network providers responding to growing demand for their services.
"As the year progresses, demand from enterprises will definitely soften, and it could offset or more-than-offset the goodness from the first quarter. I don't think telco and tier-two cloud service provider demand will be enough to offset enterprise weakness for Dell and HPE."
Furthermore, as organizations adopt cloud-hosted services during the pandemic, this could be a catalyst for customers shifting more workloads off premises, reducing data-center server sales.
Galabov said much of the long-term growth in the market will continue to be driven by the hyperscalers that prefer large volumes of white-box hardware. This means the big brand names will continue to fight over the tier-two cloud platforms, businesses, and network providers. By 2024, the analyst firm estimates, the market will reach a point where only one in every four servers will be owned and operated on-premises by an enterprise customer.
"HPE, Dell, and IBM have minimal shipments to hyperscale cloud service providers today," Galbov told us. "From that perspective they should not see much of the demand increase from these clients, however, they should benefit from strong demand from tier-two cloud-service providers, and telcos. This strong demand could partially offset weaker demand from enterprises."
For the final quarter of 2019, according to the analysts, IBM bagged a 8.3 per cent share of server industry revenues, from a 26 per cent year-on-year revenue increase due to z15 mainframe sales, and Huawei took a 6.5 per cent share after growing revenues 35 per cent. Dell-EMC took 17.4 per cent, and HPE 15.3 per cent, after suffering falling revenues.
The white-box makers, which took 18.7 per cent of the market, and a six per cent dip in sales, "established themselves as preferred server vendors to cloud service providers and have the most to gain from the cloud data center expansion in 2020," the analysts added. ®