Equinix says Zoom bought plenty more stuff in Q1. Which is just what Oracle said, too
Despite you know what, little evidence of a rush to new racks
---
Equinix has posted its Q1 FY2020 results for the period ending March 31st, along with some interesting insights into how the COVID-19 pandemic has impacted data centre consumption.
The data centre company won $1.445bn of revenue, up two percent quarter-on-quarter and six percent year-on-year, but $5m below the lowest figure in the company's $1.45-$1.6bn guidance. Things would have been better save for exchange rate shifts. Net income of $119m was up one percent year over year.
Thing were more interesting on the company's investor call and Form 10-Q.
On the call, CEO and president Charles Meyers said Zoom added "coverage and scale to support their explosive market demand." Which reminded us Oracle let it be known Zoom tapped up Big Red's cloud to handle millions of video calls. For what it's worth, another hyperscale concern contacted The Register to let us know it's also scooped up new Zoom business. Zoom previously turned to, and still uses, Amazon and Microsoft clouds for its infrastructure.
TikTok also acquired more Equinix capacity in the quarter.
Consumption rates of available cabinets across the company's 211 data centres reached "approximately 81 percent" but fell two points to 82 percent in EMEA. Some of that can be attributed to new data centre capacity becoming available, but in EMEA some customers moved on. Overall the results don't show a rush to occupy empty cabinets in Q1.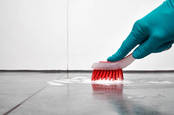 Data centres are warm and designed to move air very efficiently. Are they safe to visit during the pandemic?
READ MORE
CEO Meyers told investors that the times have made for interesting chats with hyperscale public clouds.
"If they're seeing a sales cycle being restrained by the need to satisfy the private portion of the hybrid cloud requirement, then they're coming to us, bringing us in and allowing us to help them get that resolved so that they can really satisfy the public cloud demand," he said.
The company has predicted that the pandemic will cost it somewhere between nothing and $50m, with around $3m already incurred by its decision to offer free hands-on service so that clients don't have to visit data centres.
Equinix expects to have ~314,000 cabinets available at the end of this year – and expects to get them built.
"We are experiencing some construction delays due to governmental action related to the COVID-19 pandemic," says the company's Form 10-Q, which says the costs of those delays is currently "insignificant relative to the overall project duration and budget." The company is confident construction will proceed apace. "We have redundancies built into our supply chain of vendors and to the best of our ability, we keep stock of critical items on site to ensure repairs can be completed. At this time, we haven't observed any significant disruption to our IBX data center operations due to supply chain." ®