Bork!Bork!Bork! Welcome to a bumper edition of The Register's ongoing series of screens surprising users. The petroleum retail industry is today's culprit in a double borkage.
Americans insist on calling them "gas stations" while those in Blighty prefer the pre-fix "filling" or "petrol". Others might refer to the refuelling locations as "those places with the foulest of facilities and the most inexplicably expensive of Haribo".
Bork, however, has no respect for international boundaries as today's servings demonstrate.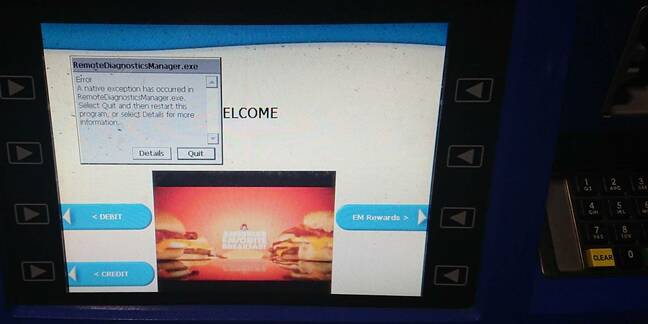 The first comes from eagle-eyed Register reader Benjamin Levy, who was needing to refuel his vehicle in Medford MA, US. We're not entirely sure what operating system and software stack the pump is running, though it appears to be complex enough to need a RemoteDiagnosticsManager.exe.
The buttons and scrollbar put us in mind of a variant of Windows CE, but surely nobody would entrust the movement of a potentially explosive liquid to an equally occasionally explosive operating system?
The need to blast commercials at the unfortunate driver operating the pump is likely the justification for the fully featured operating system, as opposed to something more real-time and specialized. Despite the unhappiness on display, one can still make out an appetising array of greasy delights.
"The pump still worked," said our reader. "Unfortunately, so did the annoying video ads masquerading as news items."
Still, things might be worse.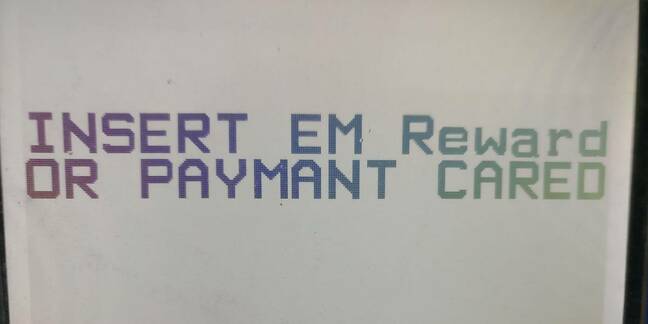 Another Register reader, Fred, sent in this example of a somewhat lower-tech gas pump display illustrating why engineers should never, ever get involved in User Interface design.
Who cares indeed?
We offer no "paymant" for borks, other than the warm glow that comes from inclusion in the hallowed halls of The Register and there is always room for more. ®