This article is more than 1 year old
US piles yet more charges on Theranos CEO, COO. We could do with good blood testing now... and this wasn't it
Elementary, my dear Holmes
Federal prosecutors have filed a superseding indictment against the CEO and COO of now-defunct blood-testing company Theranos, piling on charges of conspiracy, wire fraud, and forfeiture.
Former chief exec Elizabeth Holmes and chief operating officer Ramesh "Sunny" Balwani were already facing a long list of wire fraud and conspiracy charges for promoting Theranos's test equipment as innovative new blood analysis technology that would be faster, most accurate, and cheaper than current blood-testing systems.
The revolutionary tech they promised never worked properly and, federal prosecutors claim, both Holmes and Balwani knew that while they continued to make public statements claiming otherwise in order to bring in investment. Prosecutors also allege the two execs gave revenue estimates to investors that they knew to be false, and knowingly gave false information to reporters, whose subsequent stories the company then promoted.
The new charges expand the existing wire fraud counts to include patients who paid the company for its testing, and advertisements that the upstart took out to attract people to its services.
The indictment [PDF] uses Theranos' own self-promotion against it, quoting extensively from adverts and interviews the executives gave to media outlets. Those statements were made in the full knowledge that they were untrue, argue America's prosecutors.
"From a time unknown but no later than 2010 through 2015, Holmes and Balwani… engaged in a scheme, plan, and artifice to defraud investors as to a material matter, and to obtain money and property by means of materially false and fraudulent pretenses, representations, and promises, by making materially false and misleading statements, and failing to disclose material facts with a duty to disclose," reads one key part of the indictment.
So when we said a hundred million...
The allegations are extraordinary. It is said Holmes and Balwani told investors that Theranos would generate over $100m in revenue in 2014. They also said, according to the indictment, they expected revenue for 2015 to be $1bn. In reality, however, the company was only making revenue of "a few hundred thousand dollars or so" – less than half a percent of what was claimed.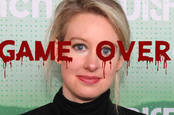 Bad blood: Theranos CEO charged with massive fraud
READ MORE
Prosecutors also claim that the two execs actively pretended to be using their new technology when they gave a demonstration to potential investors when in fact its "proprietary analyzer was running a 'null protocol' during the demonstration to make the analyzer appear to be operating, but was not testing the potential investor's blood."
They are also accused of claiming that Walgreens was going to roll out its systems across its stores at a time when the rollout has stopped because Walgreens execs were concerned about the system's effectiveness. And they are accused of saying the company had a big contract with the US Army and its technology was being used on the battlefield whereas in reality, they didn't and it wasn't.
During the period in question, Theranos took in approximately $750m in investment and at one point was valued at $9bn. But the company unraveled when the Wall Street Journal ran an expose in October 2015 that stated plainly that its technology simply didn't work.
Collapse
Regulators started taking a close look at the company and within months, threatened to shut down its testing facilities. The startup was then forced to destroy two years' worth of test results after it was determined the tests couldn't be trusted. A month later, Holmes suffered personal humiliation when Forbes downgraded her personal wealth from $4.5bn to $0. Soon after, she was banned from running a testing facility.
In March 2018, Holmes was charged by the SEC with fraud. She was forced to cough up $500,000, and was banned from serving as an officer or director of any public company for 10 years, and was told to hand over voting control of the company by converting her remaining preferential shares to common stock.
The current case against Holmes and Balwani has been going on since June 2018, and a trial has been repeatedly delayed, most recently thanks to the coronavirus pandemic. Prosecutors state, however, that they want the trial to finally begin in October, more than two years after it was brought. Holmes and Balwani, who deny wrongdoing, argue that the case needs to be moved back to 2021. ®