This article is more than 1 year old
Penny smart and dollar stupid: IT jobs slashed in US, UK, Europe to cut costs – just when we need staff the most
Revenue shortfall fears have led a third of polled businesses to shed workers
More than a third of businesses in France, Germany, the UK, and the US have laid off or furloughed IT staff based on coronavirus cost concerns, says private equity biz, and Scottish satellite slingers, Leonne International.
A survey of 1,116 senior business decision makers in Europe and the US and found that 37 per cent had axed IT staff since the pandemic emerged earlier this year.In addition 47 per cent have frozen IT budgets for the foreseeable future, due to COVID-19-inspired revenue worries.
And that's despite 41 per cent admitting their systems for dealing with home-bound employees are not compliant with Europe's pro-privacy GDPR, and 45 per cent anticipating a loss of data during the health crisis due to inadequately secured devices. (While GDPR is a European regulation, it applies to US companies doing business there.)
Looking for a job? We're running weekly lists of open positions in the IT world, from engineering and software development to server administration. If you want to advertise a technology role at your organization during the pandemic, email us and we'll list it for free: no catch, no snark. We're here to help.
The survey also found 44 per cent of companies know that staff members are using outdated versions of Zoom – savaged recently for shoddy security – and 47 per cent have allowed staff to purchase their own laptops and tablets in order to work from home, many of which won't be defended to the extent demanded by corporate policy.
Last month, the US Cybersecurity and Infrastructure Security Agency (CISA) and the UK National Cyber Security Centre (NCSC), said in a joint alert that they're seeing "a growing use of COVID-19-related themes by malicious cyber actors," and that "the surge in teleworking has increased the use of potentially vulnerable services."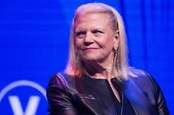 As coronavirus catches tech CEOs with their pants down, IBM's Ginni Rometty warns of IT's new role post-pandemic
READ MORE
"It beggars belief that businesses are slashing IT staff at a time when digital skills are so critical for delivering effective remote working systems," said Andy Harcup, VP at security biz Absolute Software, in a canned statement.
"It's also worrying that such a high proportion of companies are allowing employees to share confidential company data on personal devices, using outdated apps as well as knowingly operating in breach of GDPR rules."
Underscoring the security challenges accompanying staff cuts and reallocation, a survey of 256 cybersecurity professionals released last month by the International Information System Security Certification Consortium (ISC)² found that 47 per cent said they had been reassigned to IT support roles during the pandemic, to accommodate the need for handle questions from home-based workers.
And 23 per cent said their organization has seen more cybersecurity incidents since remote work became the norm, with some reporting twice as many. ®