This article is more than 1 year old
NHS contact-tracing app is best in the world, says VMware CEO... whose company helped build it
Virtzilla prepares to re-open some offices next week for staff who are willing to leave home
VMware has emerged as a player in coronavirus contact-tracing.
Speaking to Fox Business last week, VMware CEO Pat Gelsinger described his company as the "prime partner" for the UK National Health Service's contact-tracing app.
"I believe they are taking the lead worldwide," he said. "We have also learned many of the things that were … some of the problems like in Singapore and we have applied them to this solution. So we are very excited this could be the leading light in the world and we are starting to get some interest from other countries around the world as well as a few States in the US."
"But overall we think this is the best one in the world and we are really thrilled to be working with the NHS and the UK to help bring it about."
VMware staffers have mentioned the interview and added that the NHS app involves Tanzu, VMware's collection of Kubernetes management tools. Significant chunks of Tanzu were derived from Pivotal, which VMware recently acquired, and Pivotal is known to have history at the NHS.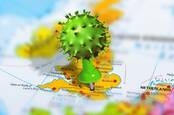 Fancy some post-weekend reading? How's this for a potboiler: The source code for UK, Australia's coronavirus contact-tracing apps
READ MORE
Tanzu is an effort to improve Kubernetes security, manageability and automation, so VMware's involvement in the project could suggest that NHS developers are both keen on cloud-native development and wise to the issues it creates.
As they work on the app they may also be able to call on VMware staff working in actual VMware offices. The Register has learned the company is "actively preparing for the gradual and safe reopening of offices after May 17 in locations where government restrictions have eased and the local and global VMware Crisis Management Teams have evaluated the risks in doing so."
The re-opened offices won't run at full capacity and attendance won't be compulsory. "We continue to encourage each employee to make an individual decision on when they are comfortable returning to an office environment," we were told.
That stance contrasts with Google and Facebook, which have both told their staff to stay at home for the rest of the year. ®