This article is more than 1 year old
Huawei gets misty-eyed for the good old days (of a year ago) with maudlin P30 Pro remaster
New Edition has those all-important Google services, but dated chippery and no 5G future-proofing
Huawei has a new phone! Actually, no. That's not exactly true. The P30 Pro New Edition is almost a carbon copy of last year's flagship blower with a few minor changes.
The embattled Chinese tech firm has boosted the base RAM and storage configuration to 8GB and 256GB respectively. Punters also have three new colour options to choose from: Silver Frost, Aurora, and Black.
There's also Android 10 running EMUI 10.1. That includes Huawei's new ecosystem products, including a video and music subscription service, as well as the firm's new Celia smart assistant.
The rest remains stubbornly unchanged. The Kirin 980 platform remains the same. So too does the battery and camera setup. Crucially, it also ships with Google Mobile Services – and therefore the Google Play Store.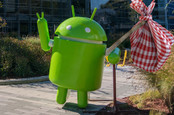 Pushed around and kicked around, always a lonely boy: Run Huawei, Google Play, turns away, from Huawei... turns away
READ MORE
That goes some way to explaining the raison d'etre behind this device. Last year, the Trump administration decided to place Huawei under a punitive embargo that severely limited its ability to license US-made tech. While this has had some effect on all parts of Huawei's business, it's proven especially catastrophic for the firm's smartphone-focused Consumer Business Group. Beyond the confines of the Great Firewall, few are willing to pony up for a phone that lacks access to the most basic of apps.
But canny Huawei has figured out a loophole: while it can't release new phones with Google's proprietary code, it can re-release older phones with modest tweaks, and keep the familiar Google Play app store.
That's left Huawei in an interesting position. It's perhaps the sole smartphone company whose older phones have stronger mass appeal than their newer, shinier wares. That's unusual, but also ultimately unsustainable in the long term.
Huawei simply can't afford to become the Jeff Buckley of mobiles, churning out remastered hits from the back catalogue [in fairness to Buckley, he's been dead for more than 20 years –ed.].
The P30 Pro is a bit like like Buckley's "Lover, You Should've Come Over". A great song (and phone) to be sure, but sometimes you want to listen to something else.
Huawei has priced the P30 Pro New Edition at £699. That's £200 less than its predecessor, which had a base configuration of 128GB ROM and 6GB RAM. As a pot-sweetener, the firm is also throwing in the Huawei Watch GT2e, which typically retails around £160.
Still, that's not quite as compelling as some new phones we've seen. Xiaomi's Poco F2 Pro is perhaps the best example. Retailing at €500, it's cheaper than the P30 Pro New Edition, and has current must-haves, like Qualcomm's latest Snapdragon 865 platform and a 5G radio.
Crowd-pleasers like that will heap pressure on Huawei to either transform its software ecosystem into a viable alternative to Google's, or otherwise find a way to reconcile with the US government. At this point, given the Play Store's first-mover advantage and the intransigent nature of the Trump administration, neither feels particularly likely.
Regardless, something must happen. Otherwise the majority of consumers in the West will be saying their "Last Goodbye" to Huawei.
Get it? Last Goodbye? Jeff Buckley? Oh, forget it. ®