This article is more than 1 year old
In colossal surprise, Intel says new vPro processors are quite a bit better than the old ones
And just the thing for remote work, which was so not a thing when these were designed
Intel has announced the tenth generation of its Core vPro microprocessors, the silicon it aims at business desktops – and now says the chips are also just the thing for remote working.
The new 14nm gear uses the Comet Lake, which wrings a fourth set of updates out of the Skylake architecture.
As ever, Intel has run some benchmarks and found these new CPUs are rather faster than older CPUs. Among the numbers we were offered is a 44 per cent boost to data analysis and visualisation compared to Intel processors found in a five-year-old PC. And guess what the life cycle of a business PC is these days? Ten points to Gryffindor if you answered "five years."
The big new inclusion is integrated Wi-Fi 6 support, which Intel says makes for terrific video-conferences (how convenient there's a pandemic on) and is pleasingly more secure than its predecessors (which also matters now that half your staff are who-knows-where).
Chipzilla said it has also upgraded the Hardware Shield tech it uses to imbue silicon with security. Material provided to The Register mentions "System Resource Defense" as a new feature that provides "hardened protection for system I/O and CPU registers" without further elaboration.
The new processors can be deployed in notebook PCs that conform to Intel's Project Athena blueprint, which demands instant-on and lovely long battery life.
By now you probably want core counts and speeds and the such like. We cannot deny you any longer. Wheel in the graphics showing off the new stuff.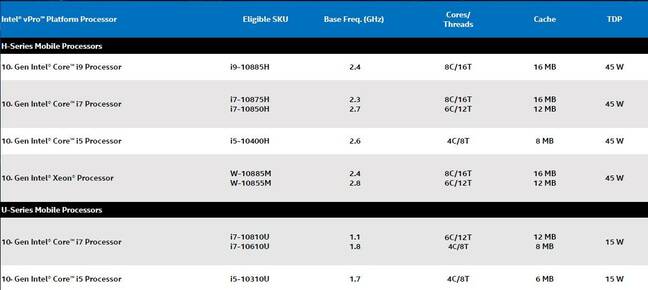 Click to enlarge
Intel has also given us a new workstation-class Xeon collection.
The X-1200s offer between six and ten cores, base speeds up to 4.1GHz, and the ability to handle 128GB of RAM. Intel's P360 GPU is along for the ride. You'll be able to drive up to 40 PCIe lanes. New bits include Wi-Fi 6, 2.5G Ethernet and Thunderbolt 3.
You may be uncool running most of them: they consume 125 Watts. But there's also a 35W tiddler, the W-1290T, which could probably find its way into a mobile workstation.
Intel has found fewer selling points for this lot, perhaps because it can only advise that they're 15 per cent faster at "media and entertainment workloads" and nine per cent swifter at "product development". Faster at product development? Hey Intel, seeing as your efforts to get to 10nm haven't exactly gone to plan, you might want to get your hands on this new chip … oh, hang on. ®