This article is more than 1 year old
Now there's nothing stopping the PATRIOT Act allowing the FBI to slurp web-browsing histories without a warrant
Thanks for nothing, Bernie Sanders
An amendment that would require the FBI get a warrant before they access Americans' web-browsing history failed to pass by a single vote in the US Senate on Wednesday.
The bi-partisan push to install the privacy protection mechanism was led by Senators Ron Wyden (D-OR) and Steve Daines (R-MT), and came following the news a planned addition to the USA PATRIOT Act, which is due to be renewed this week, would allow law enforcement to collect people's browsing histories without a warrant. It was hoped the amendment would see off the upcoming USA PATRIOT Act changes at the pass, and preemptively install a warrant requirement.
"Is it right at this unique time when millions of law-abiding citizens are at home, for the government to be able to spy on their internet searches and web browsing without a warrant?" Wyden asked the Senate ahead of the vote today.
"Should law-abiding Americans have to worry about their government looking over their shoulders from the moment they wake up in the morning and turn on their computers to when they go to bed at night? I believe the answer is no. But that's exactly what the government has the power to do without our amendment."
Rather than attempt to tackle the issue head-on and try to get the proposal for allow search histories removed entirely, Wyden pushed for greater protections to be placed around the new power.
They would mean the Feds would be required to show probable cause to a court before they can demand access to someone's web browser history – meaning they would have to prove to a judge that they had good reason to suspect the person of a crime and that their browser access would help in the investigation of that crime.
It's a long-standing protection that Wyden and others have repeatedly tried to add to the more controversial aspects of spying laws introduced after the September 11, 2001 attacks but have so far consistently fallen short of introducing.
The amendment received 59 votes – one less than it needed to pass. Thirty-seven senators voted against the amendment but attention has turned to the four senators that didn't vote, including former presidential candidate Bernie Sanders (I-VT). The three others were Lamar Alexander (R-TN), Patty Murray (D-WA) and Ben Sasse (R-NE). Anyone of them would have pushed the amendment forward.
Going backwards
A aforementioned planned addition to the USA PATRIOT Act, drafted by Senate leader Mitch McConnell (R-KY), explicitly allows for the collection of search and browsing data in section 215 of the law. It doesn't require probable cause, meaning that in reality, the FBI will be able to go to ISPs and demand web-surfing histories on individuals without requiring to produce any evidence of wrongdoing.
Worse, thanks to a controversial and highly questionable series of legal interpretations devised by the FBI, that browsing data is likely to be stored and made readily available to other law enforcement across the country with a simple search.
Section 215 of the USA PATRIOT Act has repeatedly been shown to be ineffective, expensive, and quite likely unlawful. The government's own Privacy and Civil Liberties Oversight Board (PCLOB) recently said in a report that the measure had cost US taxpayers $100m – and resulted in just one useful lead in over four years.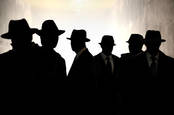 US Congress: Spying law is flawed, open to abuse, and lacking in accountability – so let's reauthorize it
READ MORE
Section 215 is the same section that Edward Snowden revealed had been interpreted wildly by law enforcement to grant it the right to seize call logs and browsing records directly from ISPs and telcos: an interpretation that was subsequently found to be unconstitutional and was scaled back.
In his speech today, Wyden called Section 215 "the most controversial and dangerous provision… because it is so vague and so broad. Under Section 215, the government can collect just about anything so long as it is relevant to an investigation. This can include the private records of innocent, law-abiding Americans. They don't have to have done anything wrong. They don't have to be suspected of anything. They don't even have to have been in contact with anyone suspected of anything."
The proposed reintroduction of the ability to gather search records, especially without any warrant requirement, is an extraordinary step backwards, particularly when many thought that Section 215 might be scrapped entirely.
The surveillance powers actually expired in March but the Senate is reviving it and a vote on a final version of it is expected this week.
Using HTTPS connections will, we imagine, somewhat thwart the FBI's harvesting of web histories: details such as the exact URL visited will be shielded within encryption that the ISP and Feds can't peer into without some shenanigans, though domain-name look-ups can be observed. Tunneling and DNS-over-HTTPS will take care of that, to some degree, depending on how you've set yourself up – though if the FBI really wants your information, it has technical and legal avenues to get it. It depends on how difficult you want to make an agent's life. ®