This article is more than 1 year old
Got a few spare terabytes of storage sitting around unused? Tardigrade can turn that into crypto-bucks
Just not very many – don't go all Bitcoin farming on this
Storj Labs, which in March launched decentralized storage network Tardigrade, is releasing an app to allow users of QNAP's network-attached storage devices to generate cryptocurrency revenue from their unused hard disk space and bandwidth.
Tardigrade consists of storage space provided by storage node operators (SNOs), which is to say people or organizations with suitably robust hard drives and willingness to commit to a certain level of availability. These SNOs provide disk space to the distributed network – where Tardigrade customers store files.
These files get broken into 256MB pieces, encrypted, and then shattered into 95 fragments. Of these, 80 get scattered to different locations across multiple hard drives. Only 30 of these pieces are required to restore the encrypted file using the Reed-Solomon erasure coding scheme.
If a sufficient number of these pieces become unavailable – presently around 50 – 30 shards get fetched and redistributed on other nodes to ensure continued availability. Prior to the addition of QNAP devices, SNOs could set up nodes on any Linux, macOS, or Windows device.
"We have people running nodes on everything from Raspberry Pis, to old home PCs, to gaming PCs, to home servers, all the way up to data center storage arrays," said John Gleeson, VP of Operations at Storj Labs, in an email to The Register.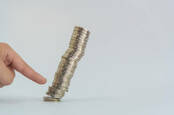 US charges Singapore coin miner with conning cloud firms out of compute time
READ MORE
The Tardigrade network also allows for Satellites, which are partner businesses that participate and pay SNOs to store their data.
Liability for hosting illegal files hasn't yet been an issue. Tardigrade is a zero-knowledge network, said Gleeson, and cannot access user data.
"We use a decentralized access control tool called Macaroons so you can easily share your data publicly using read-only encryption keys," he explained.
"If someone publicly shares illegal or copyrighted content and publicly shares it, if that is brought to our attention through a valid court order from law enforcement, we will comply with the laws and jurisdictions to remove that illegal content from the network that is connected to our Satellites."
"This hasn't happened yet, but we have a system in place to deal with these types of requests," he added. "However, we're decentralized and open source, so anyone can run a Satellite. We're working on a framework to help others who want to operate Satellites navigate this, as laws and regulations are very different across different regions and countries."
For sustaining their nodes at 99.9 per cent availability, SNOs receive a token payment in STORJ tokens.
STORJ tokens conform to the ERC-20 standard and run on the Ethereum platform. They are digital representations of cryptographically tracked value.
STORJ tokens are worth about $0.10 at present, though they must first be exchanged for another cryptocurrency like Bitcoin or Ethereum before they can be turned into a fiat currency like US dollars. Direct exchange for South Korean won is possible at the moment, and Gleeson said he expects STORJ tokens will be listed on additional exchanges that handle fiat currency conversion.
STORJ tokens can also buy storage space on the Tardigrade network and other API-oriented services associated with the service. Their value fluctuates due to various factors like the supply of and demand for storage.
The point of this arrangement is to lower the cost of storage. Last November, when pricing was announced, storing 1TB for a month cost $10, with egress bandwidth charged at $45 per TB. As a point of comparison, Amazon S3 charges $23 per TB for a month and $90 per TB, subject to significant variation. The Tardigrade network currently has about 19PB of capacity, 12PB of which are used, from about 6,500 platform participants.
The Storage Node app, available from the Storj Labs app marketplace, will let those with QNAP NAS devices easily set up a Storage Node on the QNAP device.
Simultaneously, the company is announcing early access to its Tardigrade S3 Gateway for QNAP, which lets those with QNAP NAS units backup their files on the Tardigrade network using QNAP's Hybrid Backup Sync (HBS 3) tool.
According to a company spokesperson, SNOs earn $1.50 per TB per month for static storage and $20 per TB for egress bandwidth, with the caveat that actual compensation varies based on network utilization, internet connection, and geographical location.
Most nodes, we're told, are about half full, averaging 2.6TB per node. They range in capacity from 10TB down to 200GB.
The amount of monthly revenue reported in the Storj forum by people using the system is highly variable: $86, $214, and $258 have been listed, to cherry-pick a few examples. Initially, payments tend to be less than that, but the amount can become more significant over time.
"The average Node Operator earned $13 last month and the average node earned $6 last month," said Gleeson. "We encourage users to operate one node per HDD."
In other words, Tardigrade isn't a storage-rental-to-riches scheme. Gleeson said the company does not recommend that people buy storage just to become a SNO. Rather, the network provides a potential way to defray the cost of existing storage hardware. If you're already running a NAS or several, it might make cents, or even hundreds of dollars.
"There are a lot of partners with data centers that are underutilized and are seeing they can use that capacity to add to the profitability of their businesses," said Gleeson. ®