This article is more than 1 year old
If you don't LARP, you'll cry: Armed fun police swoop to disarm knight-errant spotted patrolling Welsh parkland
Hey, he's not causing any harm, unlike Norfolk's plague doctor creep
While England may be awkwardly stumbling towards easing lockdown restrictions, the message to invading Anglo-Saxons is clear: one does not simply drive into Wales.
Yes, it might be a verdant sylvan realm, riddled with trees and hills and sheep, where the very air you breathe is a great deal more invigorating than the toxic fumes you're used to.
But its Black Gates are guarded by more than just Welsh people. Take this sword-wielding chap, who has been patrolling Hendre Lake Park in St Mellons near Cardiff, suited and booted in what appears to be plate armour and a hooded cloak.
What can mere mortals do against such reckless fashion statements? It is folly.
The lonesome warrior was spotted by medical technician Mike James, who told Wales Online that he brought his camera out to photograph his tot riding his bike.
But screw preserving treasured family memories, right? Let's pap this turbonerd instead and send the pics to the national press.
"The whole thing was really surreal. He looked like something out of Assassin's Creed," he told the news site.
"We saw this guy walking around in this knight's outfit and carrying a sword. I thought he must be an actor or something so I didn't think much more of it."
No harm done, no laws broken, as long as the sword isn't an "offensive weapon"... but don't forget that British cops have been getting a bit overexcited about enforcing lockdown.
Of course assault rifle-totting fun police rolled up "five minutes later" to disarm the guy.
Mike continued: "The police ordered him to put the sword down and then they confronted him.
"They had a chat with him for a couple of minutes and apparently the guy told them he was trying out a new outfit and he was walking around the lake to get used to the weight.
"The armed police were good as gold and even had a picture with him afterwards before letting him go on his way.
"I don't know what the sword was made from but it looked real enough.
"The outfit did look heavy. I'm not sure it was proper chain mail but it made a real tinny noise as he was walking past."
South Wales Police said: "At 3.10pm on Wednesday, May 13, South Wales Police received a report from a member of the public that a man was seen at Hendre Lakes in Cardiff with a sword.
"Officers were deployed to the scene where they located a young man who was in fancy dress carrying a toy sword. No criminal offences were committed and the man was given suitable advice."
It is not clear if that advice included "get a girlfriend."
You've got to feel for the LARP (live action role-playing) community, though. The poor lad might have splashed hundreds of quid on the outfit and spent many a night carefully crafting the backstory for his character before or not long into lockdown, and would have been looking forward to running around woodland with his mates, shouting spells and slaying elves.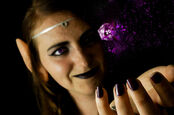 Roll a diplomacy check to win the election: Vote tie resolved by a D20
READ MORE
But this is why we have Dungeons & Dragons – so society's untouchables can be kept out of sight in basements around the world – and surely it wouldn't be so difficult to videoconference a tabletop campaign away from the prying eyes of normies.
Back over the border, however, our nerdy knight pales in comparison to the person police want to trace in Norfolk for taking their government-mandated daily exercise dressed as a 17th-century plague doctor.
"Just casually... strolling around the village in a plague costume? That's just not normal, is it? Do it indoors, it's bloody terrifying for poor little kids," a witness said.
Look, Britain's personal protective equipment woes have been well documented. If the spooky birdman snout fits, wear it. ®