Openreach boss Clive Selley has roundly dismissed a report out last night that BT was "in talks" with buyers to flog a multibillion-pound stake in its pipe-laying arm to investors.
In a memo to staff responding to the article in the FT, Selley wrote:
Many of you will have seen the reports overnight about BT being in talks to sell a stake in Openreach. I spoke to Philip Jansen last night after the story broke in the newspapers. He is very clear - the story is inaccurate. Openreach is staying in the BT Group
According to the FT report, potential buyers had included Australian bank Macquarie – owner of fibre-building minnow KCOM – and a sovereign wealth fund, which it claimed had been chatting with the former state telco for "three weeks".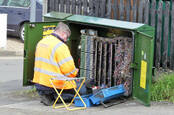 BT Openreach prepares to declare UK MBORCed* as all new phone line installations halted over coronavirus
READ MORE
Sources told the paper that a sale of a chunk in Openreach, which is legally separate but fully owned by BT, could value the unit at about £20bn – twice BT's valuation of £10bn after shares dipped under 100p yesterday.
Last year BT began a process to close more than 270 UK offices as part of its three to five-year grand plan to carve out £1.5bn in expenses.
In a release accompanying its annual report for the year ended 31 March [PDF], BT said the decision last week to suspend its dividend scheme until 2022 was "to deal with the potential consequences of COVID-19, allow us to invest in FTTP and 5G, and to fund the major 5-year modernisation programme".
BT is expected to find funding its £12bn plan to connect 20 million homes to full-fibre lines by the end of the decade challenging.
With adjusted earnings before interest, taxes, depreciation and amortisation of £2.858bn on revenues of £5.112bn for the year, Openreach is BT's most profitable segment. Its consumer unit, by contrast, reported EBITDA of £2.426bn and revenues of £10.388bn for the same year.
Earlier this year, BT said a government restriction on buying network access gear from Huawei, its biggest telco equipment supplier, would hit it to the tune of £500m over the next five years.
The company had already ruled out an outright sale of Openreach in its analyst call last week, with BT Group CEO Philip Jansen saying: "On separating out of Openreach in terms of looking at the value of that as an individual entity, I mean, the answer is 'not now'.
"Clearly, given you can see around you the perceived value of infrastructure companies like ours... it does beg the question of Openreach, given its build programme that we've just announced, but also its size and scale and its market leadership, we need to make sure we start seeing the value of that in the marketplace."
He later added: "All of [the comms providers] will connect into Openreach FTTP and we will build market share on the Openreach platform."
BT also took an arrow to the knee with the announcement last week of a blockbuster merger between Virgin Media and O2 UK to form a new rival to challenge BT's dominance in the UK comms and pay TV market.
Megabuyte said: "Virgin Media owner Liberty Global still has ambitions for an enhanced fibre rollout (previously put at 5-8m premises) that would be done via the proposed Virgin Media/O2UK joint venture."
Speculation that BT was mulling selling a stake in its pipe-laying division has been around for years. But Megabuyte said that its "assumption" about the sale of a stake in 2020 is that "BT won't want to commit just now" – pointing out "it has agreed volume supply deals with the major resellers, and there is increasing evidence of uptake and returns on the 2.4m premises already passed." The analyst believes third-party funding "looks plausible" in the next year or two, however.
Telco analyst Paolo Pescatore of PP Foresight said: "I've repeatedly said that BT needs to evaluate the strategic options of certain businesses and assets including Openreach (and others). More so during challenging times and an uncertain future. A move to partially offload Openreach will raise much needed cash for UK plc in the rollout of a gigabit society." ®
Similar topics