This article is more than 1 year old
Tales from the crypt-oh: Nvidia accused of concealing $1bn in coin-mining GPU sales as gaming revenue
Lawsuit filed by shareholders who thought chip biz was onto something long-term rather than serving a fad
Nvidia has been accused of under-reporting sales of graphics processors for cryptomining in an effort to distance itself from the volatile market.
An amended complaint [PDF], filed this week in California by aggrieved investors, accuses Nvidia of trying to pass off the sales of as much as $1bn in accelerator chips for cryptocurrency mining as gaming hardware. Nvidia did not respond to a request for comment.
The suit dates back to 2017 when the cryptocurrency market was doing well, and in particular there was soaring demand for the math engines in graphics cards to use in mining new online fun-bucks.
"In early 2017, Nvidia faced an unusual problem: its flagship product was flying off the shelves. Under normal circumstances, such a trend would be cheered," the suit reads.
"But the enormous sales growth owed not to an increase in demand from gamers (Nvidia's traditional consumer), but rather to bands of online prospectors who were buying up the processors by the thousands and deploying them in massive datacenters to solve complex mathematical problems in pursuit of digital tokens."
The suit goes on to explain how Nvidia courted the crypto-currency world by selling dedicated hardware specifically marketed for mining, but still found that many of its gaming cards were being purchased for crafting alt-coins.
Knowing the market for mining hardware could cave at any moment, it is alleged Nvidia management – CEO Jensen Huang, CFO Collette Kress, and SVP Jeff Fisher – decided to conceal much of the cryptomining sales.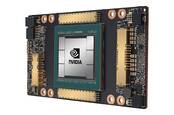 Ampere, Nvidia's latest GPU architecture is finally here – spanking-new acceleration for AI across the board
READ MORE
This involved sweeping most of the cryptocurrency hardware sales under the OEM and intellectual property carpet, it is alleged. Nvidia insisted its dedicated mining units were being sold to miners, and that its red-hot graphics card sales were due to soaring demand by gamers, when really gaming GPUs were being snapped up by crypto-fanatics as well as video game players, it is claimed.
The re-shuffle thus allowed Nvidia to tell investors that it was still getting most of its revenues from the more stable gaming hardware space, even as gamers grumbled over months-long waits for cards as miners bought up all the inventory.
"Launching the crypto SKU and reporting its sales in the OEM segment thus allowed defendants to claim that any mining-related revenues were cordoned off in OEM, creating the impression that Nvidia's crown jewel gaming business was insulated from crypto-related volatility (and the crash in demand that would follow the cryptocurrency markets' inevitable bust)," the suit reads.
Fast-forward to November 2018, when the market for cryptocurrency mining did indeed collapse, and took Nvidia's share price down by 20 per cent, dealing a blow to those who invested just prior thinking they were onto a good long-term thing. Analysts cited in the suit reckon that Nvidia under-reported its cryptocurrency-mining revenues by around $1.13bn.
Now, the shareholder class wants to collect damages from the company and execs for what they say are violations of US securities laws by execs who were misrepresenting where the company's revenues were coming from, and costing investors big bucks when it all came crashing down.
"A host of facts support a strong inference that Nvidia and the individual defendants knew or were deliberately reckless in not knowing the true facts concerning the impact of cryptocurrency-related demand on Nvidia's financial performance when making the misleading statements and omitting the facts," the suit claimed. ®