Swedish data centre offers rack-scale dielectric immersion cooling
And reckons it can crack 100kw per rack with help from Yorkshire company Iceotope
Dielectric fluids conduct heat but don't conduct electricity, which is why they're a fine way to cool electronics.
But they're seldom used to cool servers at scale because even though dielectrics won't harm the machines, the mere idea of lots of liquids inside a data centre provokes entirely justifiable fear.
So why and how did Sweden's EcoDataCenter this week launch full cabinets cooled by dielectrics?
The answer comes from Yorkshire outfit Iceotope, which has created what it calls a "cool sink". Described to The Register by CEO David Craig as "a little bathtub that we fill with dielectrics" that is placed on the hottest bits of a server.
"You replace fans with pumps, and boxes with holes with sealed boxes," Craig explained.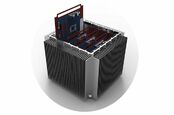 Your future data-centre: servers immersed in box full of oil, in a field
READ MORE
Iceotope's kit doesn't work alone: Schneider Electric and Avnet have worked to get cool sinks working inside a Schneider liquid-cooled cabinet. But the dual use of liquid cooling is said to be more efficient than air cooling.
Craig said his company's approach came about because he recognises its hard to scale dielectrics if they require non-standard server housings or full immersion tanks.
EcoDataCenter came into the picture because its unique selling point is running on renewable energy and dielectric cooling at scale both helps it to achieve a better power usage effectiveness (PUE) rating and increase density.
CEO Lars Schedin explained that the typical rack in an air-cooled data centre houses kit that consuming four or five kilowatts. Anything more is just too hot, hence the presence of blanking plates that let more air circulate in many racks.
Data centres are essentially real estate outfits. Rack-scale dielectrics therefore means that tenants can put more servers in the same space. They'll pay less for fewer racks. And their power bill should remain the same, because if you need the kit you need the kit.
If this stuff takes off, it could therefore obviate the need for some data centre builds because existing facilities could house more kit – if they can source power. EcoDataCenter's Schedin has 500 megawatts on tap, so knows his facility can accommodate denser racks. And he says customers want them, with some already asking for 80kw or more. Schedin thinks he could hit 140kw per rack or higher under the right circumstances.
While EcoDataCenter is now offering dielectric-cooled racks, it's not yet a mainstream option because Iceotope's kit only currently fits only one particular server. But Craig said the technology can be adapted to "the vast majority of heavy lift servers" and doesn't change anything sysadmins need to do when maintaining machines, other than take care not to bump the extra bits associated with dielectric cooling. ®