If American tech is used to design or make that chip, you better not ship it to Huawei, warns Uncle Sam
Export of semiconductors built using US tools to Chinese giant banned without a license
The Trump administration on Friday officially clamped down on the use of US technology worldwide to manufacture chips for Huawei, cutting off the mega-corp from vital semiconductor supply chains.
Last year, the Chinese telecoms kit maker, along with its chip wing HiSilicon and 113 subsidiaries, were blacklisted by the US Department of Commerce on the grounds of national security. Specifically, Huawei was placed on the Bureau of Industry and Security's (BIS) Entity List, preventing the manufacturer from obtaining American-made components, software, and other technology from US organizations.
Now, Uncle Sam is cracking down further. "BIS is amending its longstanding foreign-produced direct product rule and the Entity List to narrowly and strategically target Huawei's acquisition of semiconductors that are the direct product of certain US software and technology," a statement reads.
Essentially, chips manufactured overseas using US software or hardware cannot be shipped to Huawei or any of its subsidiaries without Uncle Sam's permission. That means that even if the semiconductors were commissioned or designed by Huawei and manufactured by foundries outside of the States, the chips will still be subject to export limits if the manufacturing processes use any US equipment or design tools. That blocks Huawei from placing the system-on-chips and other integrated circuits in its own products, such as phones and tablets.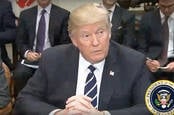 Donald Trump extends ban on Huawei, ZTE telecoms kit in US companies to May 2021
READ MORE
This even affects TSMC, which makes chips for Huawei and just promised to build a 5nm semiconductor factory in Arizona. There will be a 120-day grace period before the new rules kick in.
"Despite the Entity List actions the department took last year, Huawei and its foreign affiliates have stepped-up efforts to undermine these national security-based restrictions through an indigenization effort," said US Security of Commerce Wilbur Ross. "This is not how a responsible global corporate citizen behaves. We must amend our rules exploited by Huawei and HiSilicon and prevent US technologies from enabling malign activities contrary to US national security and foreign policy interests."
The move comes just after President Donald Trump extended an executive order banning US companies from buying or using any telecoms and networking equipment from Huawei and ZTE, another Chinese manufacturer. The order uses the International Emergency Economic Powers Act, which allows the US government to exert more control over ongoing alleged national security risks.
Beijing is, of course, reportedly poised to put American companies on an "unreliable entity list" in response to this latest crackdown. The ongoing tit-for-tat trade war between the US and China has hit a new level, it seems. ®