Popular Android app Podcast Addict has been suspended from the Google Play Store, apparently for mentioning COVID-19.
"Are you for real Google. Can you please check your own Google Podcast App?" the frustrated developer said on Twitter.
The app claims to be the top podcast app on Android and is certainly very popular, with over 9 million downloads and 500,000 reviews. The developer received a notification on 16 May that "pursuant to section 8.3 of the Developer Distribution Agreement and the Enforcement policy, apps referencing COVID-19, or related terms, in any form will only be approved for distribution on Google Play if they are published, commissioned, or authorized by official government entities or public health organisations… your app has been suspended and removed due to this policy issue."
The developer was invited to "provide proof of permission or submit a compliant version of your app".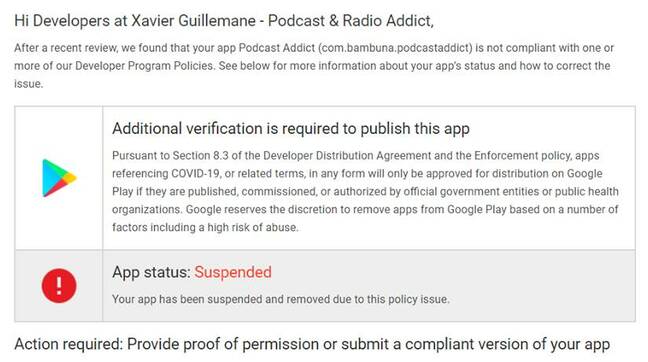 Google's notification to Podcast Addict, posted on Facebook by the developer
"That's ridiculous! Every podcast out there is talking about COVID-19," said a user on the app's Facebook page in response to the news. If the app is installed it still works, but attempting to download it from the Play Store shows only a "Not found" page and it no longer appears in search results.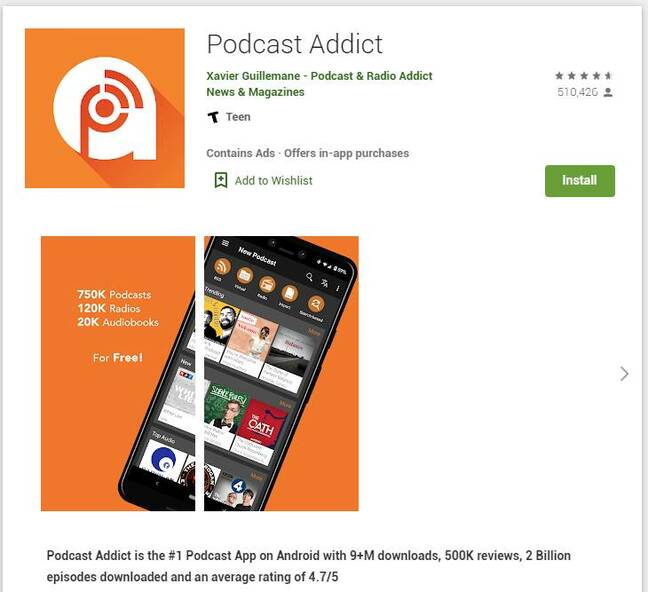 Podcast Addict on the Play Store: this page currently returns 'Not found'
There are 2.9 million apps on Google Play, according to figures from AppBrain, and Google's problem may be that manual investigation of issues like this is too slow and time-consuming, so it relies on automation. Many malicious apps and extensions are correctly removed, protecting the public. On the other hand, common developer complaints are that notice periods are short or non-existent, reasons for suspension often unclear, communication with Google on the subject challenging, and well-established apps do not seem to warrant extra attention, even when they have paid subscribers who contribute to Google's profits.
A few days ago, Pushbullet, which has an extension for Chrome that links SMS messages and notifications between Android phones and the browser and more than a million users, was threatened with suspension from the Chrome Store in 14 days with no reason given other than the generic: "Your item did not comply with the following section of our Program Policies: 'User Data Privacy'." The developer posted: "Let's guess what Google requires in 14 days or they kill our extension," describing how they reduced the required permissions, resubmitted the extension, and had it rejected again.
The problem was spotted by Chrome developer advocate Simeon Vincent, who noted on Twitter: "The changes you've made look good at first blush, so I'm a little lost on the follow-up rejection. I'm going to open an appeal to get a second opinion" – a more helpful response than official channels usually provide.
Google developer advocate: 'We have systemic issues to work through'
Thanks to his intervention, the updated Pushbullet was approved, and Vincent added: "Apologies to Pushbullet for the rejection after [they] addressed the original violation & to the broader dev community for not providing more actionable rejections." Asked if tweets were really the best way to deal with problems like this, he said: "At the moment there isn't really a better way, and as a single human I don't scale well. TBH we have systemic issues to work through to improve the comms process here."
This will not directly help Podcast Addict, which has a problem with the Play Store rather than a Chrome extension, but it looks like a similar situation. The Pushbullet developer expressed sympathy, saying: "We just got put through a similar experience. Every time I see an email from Google it is terrifying."
The pattern is that developers who make a lot of noise and have a good case tend to get reinstated. The effect is to delegate the identification of wrongful suspensions to the court of public opinion. It is a blunt instrument, with smaller developers or those who are less savvy about getting publicity that are at greatest risk. Vincent's tweets support the view that the company knows it should do better, but it is a long-standing issue, so don't hold your breath. ®