This article is more than 1 year old
Huge if true... Trump explodes as he learns open source could erode China tech ban
The Register presents White House transcript obtained by Stealth Anti-Tracing Intelligence Remote Exfiltration
The Register has obtained the following transcript of a recent White House conversation between US President Donald Trump and advisors regarding the ban on American technology reaching Huawei.
We, of course, cannot reveal our sources. Having said that, we were tipped off to the existence of a since-deleted GitHub repo containing Stealth Anti-Tracing Intelligence Remote Exfiltration* technology, which we're told was used to obtain the following conversation...
---
Trump: So since we passed this new law are any of our companies doing business with Huawei?
Trade Advisor: No, Mr President. Intel, Cisco, Microsoft, Google … they've all stopped.
Trump: So nothing is going to Huawei?
Trade Advisor: No, Mr President. We estimate that in 30 days Huawei will run out of chips to build into new products. It can't buy American software either. The company will soon be crippled. We're sending a message to Beijing, Mr President: they can't use their technology companies to spy on us. But the NSA still uses our tech companies to spy on them.
Trump: Excellent. I'll announce this soon. Has Fox News sent its script for approval yet?
Trade Advisor: Yes, Mr President.
Trump: So much winning!
Technology Advisor: Actually, Mr President, all of America's biggest tech companies are still sending our technology to China every day.
Trump: What? This one guy says we've stopped and you're telling me different? You know I don't like collusion! But can't you people get just one story straight?
Technology Advisor: Have you heard of open source, Mr President?
Trump: Sauce? Sure, I have ketchup on my burger every night. What's that got to do with China?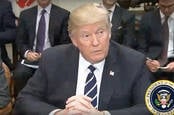 Donald Trump extends ban on Huawei, ZTE telecoms kit in US companies to May 2021
READ MORE
Technology Advisor: Not sauce, Mr President. This is about the source code for software. American companies share that all the time. And China uses it extensively. Most big Chinese tech companies built their businesses on software that includes plenty of code from American firms.
Trump: What idiots let that happen?
Technology Advisor: For one thing, NASA, Mr President. They built this thing called the Nebula project that eventually became OpenStack and gave it away for free. It now runs China's biggest web companies and they're turning it into products they sell locally that compete with American software. IBM, Microsoft, Google … all the big companies in tech freely give software to China.
Trump: This is the stupidest thing I've heard since they told me I can't buy Greenland or nuke a hurricane.
Technology Advisor: It's just the way the technology industry works, Mr President. And American companies use Chinese software, too.
Trump: Even from Huawei?
Technology Advisor: Yes, Mr President. Huawei code is used in America every day. You probably use software from Huawei when you tweet.
Trump: So Twitter is on China's side? I knew they were up to something.
Technology Advisor: No, Mr President. It just probably uses some software that Chinese companies give away.
Trump: Well if it's the stuff they give away, that's fine. That's the junk. Can we get viruses from it?
Trade Advisor: I've never even heard of this computer ketchup, sir, and I don't think computer viruses can cross over into humans if you keep your keyboard clean. I say we just let it go.
Trump: OK. Great meeting. So much winning. Just one action: fire NASA. Make them a part of Space Force or something, then have them beam down ultraviolet light to kill the virus. If that doesn't work, maybe it's time we blamed the Carter administration for something? ®
* aka SATIRE